Thursday 27 March 2014 10.21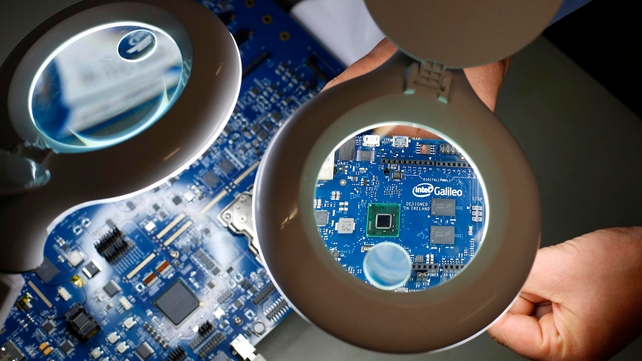 Intel's Leixlip plant in Co Kildare is now by far its largest in Europe
Computer chip maker Intel has revealed it has spent $ 5 billion (€3.63bn) over the past three years upgrading its Leixlip plant in Co Kildare, in a move that will underpin the jobs of the 4,500 employees there into the medium term.
The surprise capital injection is the largest single private investment in the history of the State.
The investment has seen a number of the plant's silicon wafer fabrication plants (Fab) refurbished, creating 5,000 temporary construction jobs at the site.
The size of the investment comes as a surprise because the company said in January 2011 that it was planning to invest $ 500m (€363m) in re-commissioning Fab 14, which was shut down in 2009.
That project was projected to create 850 temporary construction jobs and 200 permanent technical jobs.
But since then Intel has also proceeded with refurbishing Fab 10, Fab 24 and Fab 24-2, with around 5,000 temporary construction workers involved in the three-year project.
However, the notoriously publicity shy company did not disclose this further investment until this morning, when its global president Renée James visited the plant along with Taoiseach Enda Kenny.
The total investment involved comes to $ 5 billion (€3.63bn), with at least $ 2 billion (€1.45bn) of that having gone directly into the Irish economy via construction. The investment has been supported by the Department of Jobs through IDA Ireland.
Intel has not yet specified exactly what will be made in the newly refurbished plants, which are likely to be amalgamated into one massive manufacturing facility.
However, in 2012 the company signalled that the Leixlip plant was one of three worldwide earmarked to develop its next generation of chips, which will be 14 nanometers in scale or smaller.
It is anticipated that the upgrade will lead to the Co Kildare plant securing responsibility for producing some of these new chips, beginning in 2015.
Prior to this injection of new capital, Intel had invested a total of $ 7.5 billion (€5.45bn) into its Irish operations. This new funding brings to more than $ 12.5 billion (€9bn) the US based firm's investment in Ireland, although some of that investment has paid for expensive plant machinery produced abroad.
The Leixlip plant is now by far its largest in Europe and among its biggest in the world and is positioned at the forefront of its global manufacturing capabilities.
Intel also secured planning permission in February 2013 for a massive new Fab in Leixlip, which would also be capable of producing next generation chips. The decision to apply for permission was a strategic one by the company to give it options for building a new plant, if and when it is needed.
So far the go-ahead for the investment has not been given. But if it were to be built, it is estimated it would involve a fresh investment of €3 billion and could lead to the creation of 3,500 temporary construction jobs and 800 permanent technical positions.
Intel celebrates 25 years in Ireland this year. It first invested in the country in 1989, when it began producing computer motherboards.
The plant gradually expanded into the 360-acre campus outside Leixlip, where it built several multi-billion euro chip plants. 
As well as employing 4,500 in Kildare, Intel also has 200 employees at a research and development unit in Shannon, Co Clare and several hundred more in subsidiaries in Cork and Belfast.
The company has had a difficult few years after it missed the opportunity to capitalise on the massive smartphone market.
However, it has since moved on from that error and last year announced a new next generation chip for use in small computing devices such as wearable technology, which was designed in Leixlip.
It is also involved in software, services and IT security through its subsidiary, McAfee.
TOP STORIES

RTÉ News – Business Headlines