Friday 16 May 2014 09.54
1 of 2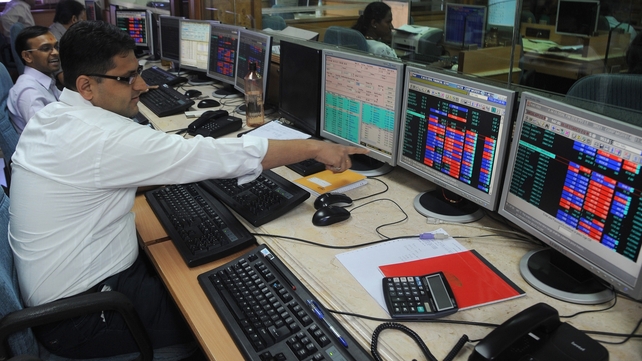 India's benchmark Bombay Stock Exchange index, known as the Sensex, rose over 6 today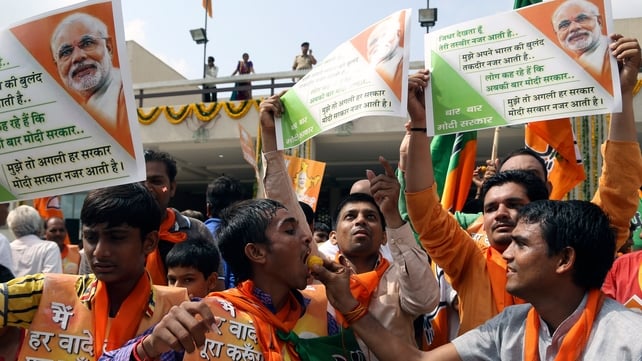 Business-friendly Narendra Modi looks set for a landslide victory in Indian elections
India's main stock index surged over 6% today to a record above the key 25,000-point level.
The rupee also hit an 11-month high, as opposition leader Narendra Modi headed for a landslide election victory.
The Bombay Stock Exchange index, known as the Sensex, soared 6.15% to 25,376 as results showed pro-business Modi and his Hindu nationalist Bharatiya Janata Party (BJP) expected to score a huge win after a marathon poll.
Modi has ridden a wave of voter support with his message of jobs, development and revival of an economy that is growing a decade-low levels. 
The party ousted the left-leaning Congress party which has ruled India for a decade and dominated the country's politics for most of its post-independence history.
The influential Federation of Indian Chambers of Commerce and Industry (FICCI) called Modi's "decisive mandate" a "positive for India".
"It is amply clear the country, especially the youth, wants development and good governance," said FICCI president Sidharth Birla, adding he hoped Modi's win would restore confidence in India.
Shares in infrastructure and energy companies, particularly of those whose owners are seen as close to the BJP, surged. Adani Enterprises, controlled by stalwart BJP supporter Gautam Adani, rose as much as 17%, while Reliance Industries, which is owned by India's richest man, Mukesh Ambani climbed 8.5%. 
Banks were also among top gainers, with Canara Bank and Andhra Bank both gaining 24 percent.
The rupee surged over 1% higher to 58.62 against the dollar, building on gains in recent weeks that have been fuelled by expectations Modi would win the gruelling six-week election and introduce reforms to turn around the economy. 
The rupee has now risen 17% since sinking to a record low of 68.85 in August when investors were worried about a fiscal deficit crisis and waning foreign investor confidence as the government struggled to boost growth in the face of global economic turmoil.
Stock markets have risen 5% in the past week alone as heady optimism has returned despite low investment and weak growth, stubbornly high consumer inflation and widespread corruption.
India's economy grew 4.9% in the financial year to March, half its pace during the country's boom years.
TOP STORIES

RTÉ News – Business Headlines