Wednesday 14 May 2014 07.25
1 of 2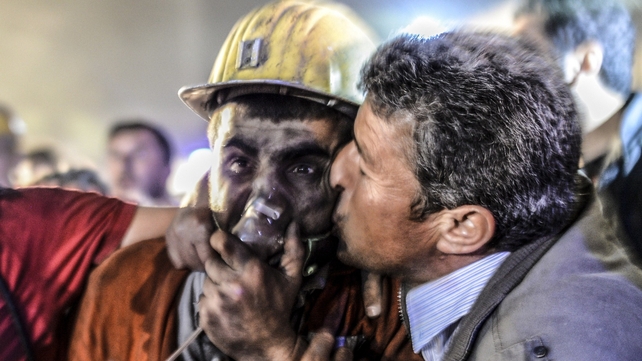 A man kisses his son after he was rescued from the mine in Soma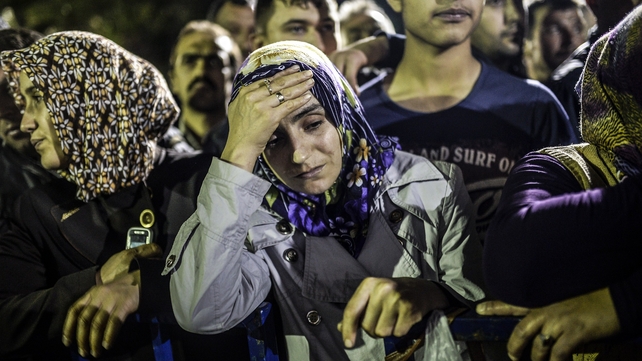 People stand in front of a hospital as they wait for news about their relatives
At least 201 people have now died after an explosion and fire in a coal mine in the western Turkish province of Manisa.
The increased death toll came as rescue operations continued overnight following yesterday's disaster.
A total of 787 workers were trapped inside the mine by the explosion and fire.
Hundreds of people remain underground this morning and four of those rescued are seriously inured.
Energy Minister Taner Yildiz said the death toll could rise further and that the chances of finding survivors were diminishing.
"I must say that our hopes about rescue efforts inside (the mine) are fading," he said.
The mine in Soma is around 120km northeast of the Aegean coastal city of Izmir.
The explosion is thought to have been caused by an electrical fault.
It triggered a power outage, which made the elevators unusable and left the miners stranded.
The minister said many of the victims died from carbon monoxide poisoning.
Rescue workers pumped oxygen into the mine to keep those trapped by the blaze alive.
However, the fire is still burning and hampering rescue efforts.
Thousands of family members and fellow workers have gathered outside the town's hospital waiting for information.
Teams of psychiatrists are being pulled together to help counsel the families of victims.
Paramilitary police are guarding the entrance to the mine to keep distressed relatives at a safe distance from the rescue effort.
A cold storage warehouse, usually used for food, and freezer trucks are serving as makeshift morgues as hospital facilities are overflowed.
Prime Minister Tayyip Erdogan has cancelled a day trip to Albania and will travel to the mine later today.
TOP STORIES

RTÉ News – News Headlines