Updated: Thursday, 05 Dec 2013 15:04 | Comments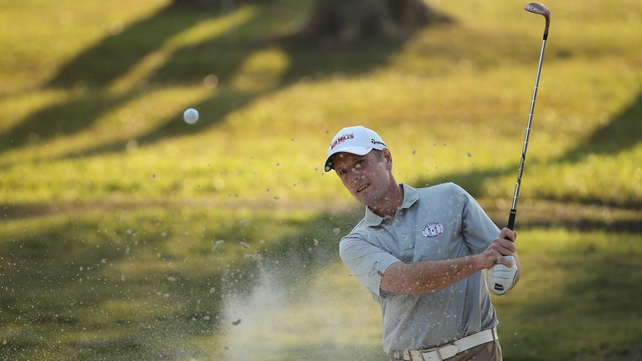 David Higgins likened the course in Hong Kong to the links at Waterville
David Higgins claimed a one-shot lead after the first round of the Hong Kong Open that saw Finland's Joonas Granberg suffer a bizarre disqualification.
Granberg was due to tee off at 11:50am local time from the 11th hole, but initially went to the first tee before realising his mistake.
The 26-year-old then dashed to the 11th tee only to find his caddie had gone to the 10th tee – the more usual starting place for a two-tee start – instead.
Rule 6-3a states that if a player arrives at his starting point, within five minutes after his starting time, he is given a two-shot penalty. Otherwise, the penalty for a breach of the rule is disqualification.
Sweden's Joel Sjoholm also almost fell victim to the same rule, arriving on the first tee with moments to spare and having to play the first hole without his golf shoes.
"I set six alarm clocks this morning and woke up in desperation at 7:58am, tee time was 8:30am and we live a good 25 minutes from here so I was panicking to the tee box," Sjoholm told European Tour Radio.
Sjoholm's round of 68 left him four behind Higgins, who carded nine birdies and three bogeys in his six-under-par 64 to finish one ahead of Italy's Andrea Pavan.
Higgins, who lost his European Tour card by less than €20,000 at the end of the season, said: "It was great. I just played good solid golf from tee to green, holed some lovely putts and had a chip in; if you're going to shoot a low score like that you've got to do some good stuff.
"If you drive it well here you've got a lot of short irons into the greens and that's a strong part of my game so I'm comfortable on that. It has quite a linksy feel with the firm conditions and I grew up on Waterville, one of the best courses in Ireland, so that suits me.
"I played quite well towards the end of the season so I have been coming into some form, been working hard and it's time to push on and have a good week here."
Pavan dropped just one shot, at his penultimate hole, in his 65, with English duo Adam Gee and Seve Benson among a seven-strong group a shot further back on four under.
Defending champion Miguel Angel Jimenez, seeking a record-equalling fourth win in the event, three-putted the last and had to settle for a level-par 70. 
Waterford's Kevin Phelan shot a level-par 70.
User contributions and/or comments do not, unless specifically stated, represent the views of RTÉ.ie or RT&Eacute.
Click here for Terms of use

RTÉ Sport sport headlines