Updated: Monday, 06 Jan 2014 08:51 | Comments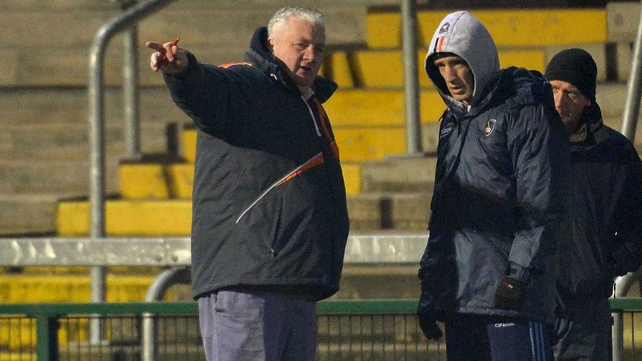 Armagh manager Paul Grimley with selector Kieran McGeeney before the game with Queen's
Armagh manager Paul Grimley feels supporters will become "completely disillusioned" by the black card. 
The Armagh boss said the decision to introduce the black card was a poor judgement on everyone's behalf following their Dr McKenna Cup win against Queen's.
He believes the black card is present in football because of a media-driven campaign.
Grimley told RTÉ: "The rule change was uncalled for because it was a disproportionate response to the amount of cynical tackling being done. It was driven by punditry and in the media I feel.
"If you look at the highlights of last year, there was maybe four or five challenges that were regarded as outright cynical. If that is why the rule was changed I think it is a fairly poor judgement on everybody's behalf.
"There was nobody that turned around and highlighted the four or five great tackles that might have been made to run parallel with that.
"I feel supporters in general will become completely disillusioned and a wee bit frustrated whenever they see some of the players getting the black card for whatever reason."
Over a dozen black cards were handed out over the 20 games during the weekend in what was the first time it was available to referees.
Grimley is convinced the black card is an unnecessary step. 
"You can't blame the referees", he said.
"They are doing their best obviously. The rules are there. There was definitely no call of the rule change for the black card.
"I think it absolutely makes a cod of our game. People are on about cynical play. For the five or six instances there was, did it require a rule change? The answer is no in my mind anyway." 
User contributions and/or comments do not, unless specifically stated, represent the views of RTÉ.ie or RT&Eacute.
Click here for Terms of use

RTÉ Sport sport headlines