1 of 2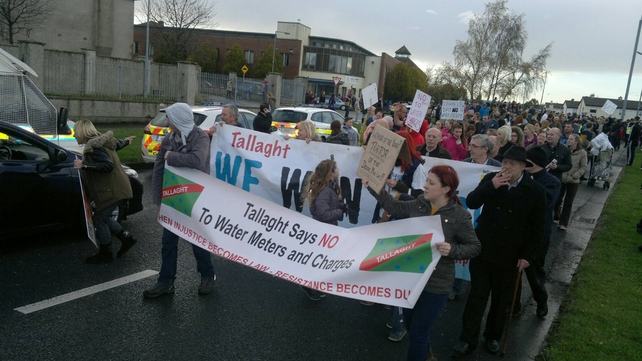 People on the streets protesting over the water charges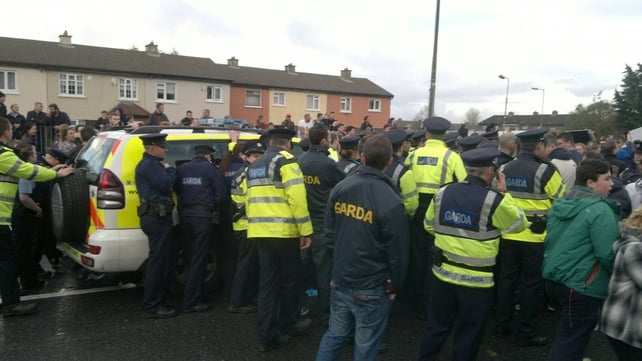 Several politicians have criticised the nature of the weekend demonstration in Jobstown
Details of the Government's revised plan for water charges will be made known this week.
A simplified system is expected to be agreed by the Cabinet tomorrow ahead of the plan being outlined in the Dáil on Wednesday.
Several politicians have criticised the nature of one weekend demonstration in Dublin, during which Tánaiste Joan Burton was trapped in her car for over two hours.
Minister for Health Leo Varadkar said there had been reports of intimidation, aggression, sexist remarks and abuse of the gardaí at the protest in Jobstown on Saturday.
He called on his constituency colleagues Joe Higgins and Ruth Coppinger to publicly dissociate themselves from that reported intimidation.
Ms Coppinger said she and Mr Higgins stood unambiguously on the side of the people who turned out to protest.
She said casting Ms Burton as a victim was misplaced, when the real victims were those who had borne the brunt of Mr Varadkar and Ms Burton's continuation of the Fianna Fáil/Green Party bailout and austerity.
More details about the new charges have emerged.
It is understood that households with one adult will pay €76 and that all other households will pay €178.
It is also speculated that one adult per household will be required to register with the Department of Social Protection to qualify for a universal water support payment of €100. 

RTÉ News – News Headlines