Wednesday 30 April 2014 10.30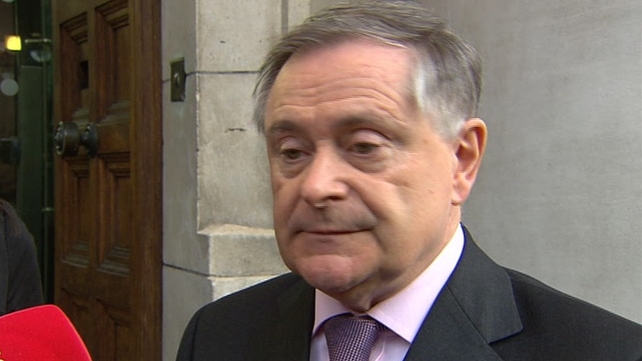 Brendan Howlin said there are a lot of unanswered questions
Minister for Public Expenditure and Reform Brendan Howlin has said the establishment of a banking inquiry is now imminent following the conclusion of the Anglo trial.
Mr Howlin said a huge amount of work has been done by the Oireachtas.
There is a compelling demand from the public to know what happened, he said, adding that there are a lot of unanswered questions.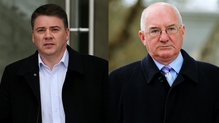 He said not all persons are available in the State to give answers but those who are must give clear, transparent and public evidence.
The judge in the Anglo Irish Bank trial yesterday ruled that a State agency led two former executives of the bank into error and illegality, and said it would be unjust to imprison the men.
Judge Martin Nolan adjourned sentencing of Anglo's former head of lending in Ireland, Patrick Whelan, and the bank's former finance director, William McAteer, to assess suitability for community service.
They were found guilty of giving illegal loans to ten developers to buy shares in the bank; a breach of Section 60 of the 1963 Companies Act.
The judge said the attitude and behaviour of the financial regulator had complicated the issue of sentencing.
Meanwhile, a former deputy director of the International Monetary Fund has said the outcome of the Anglo trial re-enforces the need to proceed with the inquiry.
Speaking on RTÉ's Morning Ireland, Donal Donovan said there was clearly widespread support, whether implicit or explicit, for the scheme to lend money to the so-called Maple Ten group of investors.
He said the public had a legitimate expectation that those involved in the financial debacle in Ireland give an account of what happened.
He said the public "would like to see people like [former financial regulator] Patrick Neary and others, the main actors in this, come and explain the mistakes they made … possibly put their hands up".
"So let's move forward quickly with this and not have it drag on and on as has been the case for the last while," he added.
TOP STORIES

RTÉ News – News Headlines