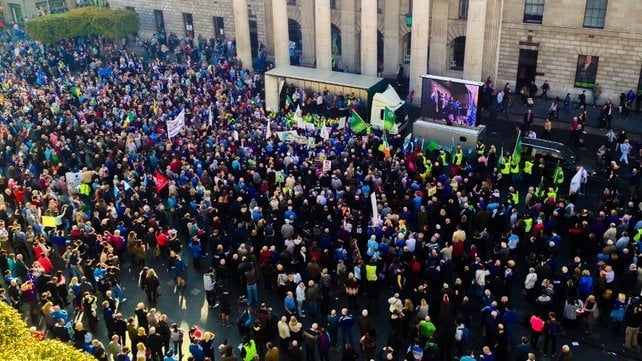 A national demonstration against water charges took place outside the GPO in Dublin earlier this month
Former minister for communications, energy and natural resources Pat Rabbitte has described claims that Irish Water will be privatised in years to come as a red herring.
The Labour TD said no government "with its head screwed on" would seek to sell the utility to private enterprise.
He said the nub of the problem at the moment was affordability.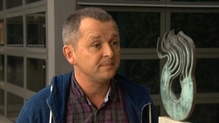 People were apprehensive after six years of austerity as to what they will be charged, he added.
Speaking on RTÉ's Morning Ireland, Mr Rabbitte said not enough time was allowed by the Government for the smooth establishment of Irish Water.
"The expert advice across the water, for example, where water companies have been established, is that it would take three to five years.
"Here, under constant pressure from the Troika, the Government sought to have it under way in two years.
"That timeframe was too short and is the root cause of some of the difficulties that are now confronting us."
Speaking on the same programme, People Before Profit/United Left Alliance TD Richard Boyd Barrett rejected Mr Rabbitte's claims. 
He said the Troika would have been happy if a wealth tax was introduced instead of water charges, as long as the money was raised.
Mr Barrett also said protests against water charges are having an effect.
"I am saying that people power is working. Protests are working and the Government are backtracking at a rate of knots.
"But they haven't backtracked far enough and what people want is the abolition of these water charges.
"We defeated these water charges in the 1980s, we defeated them again in the 1990s and we are committed to defeating them."
Meanwhile, organisers of demonstrations against water charges say they expect more protest locations to be announced today.
The Right2Water campaign says rallies will be held in more than 92 locations across the country tomorrow, including 25 marches in Dublin.
The protests, which are to begin at various times, follow a national demonstration which took place outside the GPO in Dublin at the beginning of the month.
The Right2Water campaign says it will continue to build a mass movement of opposition to water charges.
The campaign, which involves trade unions, political parties and community groups, believes people are angry and unified in their opposition to these unfair charges.
However, the General President of SIPTU has said preventing the introduction of water charges will mean people will end up paying more for water rather than less.
Speaking on RTÉ's Today with Seán O'Rourke, Jack O'Connor said he was certainly not suggesting that people should not protest.
He said what was currently being envisaged with water charges was a regressive charge.
Mr O'Connor said he and his union favoured a different solution, and had been trying to persuade the Government for months to introduce a proper refundable tax credit that would offset the cost of everyone's normal need for water.
He called on the Government to defer water charges and to ask either Irish Water or another body to conduct surveys to establish people's normal need for water.
In a statement issued this morning by the Anti-Austerity Alliance, Socialist Party TD Joe Higgins accused Mr O'Connor of acting as "the mudguard for the Labour Party", and said he had refused to support the protests tomorrow.
Mr Higgins said that if Mr O'Connor was serious about putting forward an alternative, he would be actively fighting to scrap the water charge, and to have a wealth tax implemented which could more than cover the cost of the water charge.
Elsewhere, a spokesperson for the Department of the Environment this morning said no decisions have been made in relation to the structure of water charges yet.
Work is ongoing in relation to the issue.
The spokesperson said when the Government has completed its final analysis an announcement will be made at the appropriate time.

RTÉ News – News Headlines