Monday 05 May 2014 07.39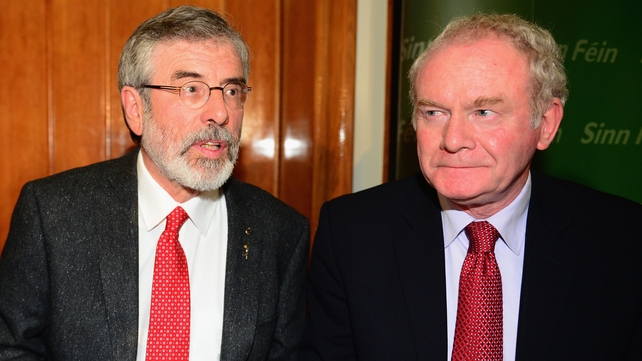 Gerry Adams addressed the media after his release from custody last night
Tánaiste and Minister for Foreign Affairs Eamon Gilmore has called on all parties to refrain from further comment or speculation following the release of Sinn Féin leader Gerry Adams from PSNI custody last night.
Mr Adams was released after four days of questioning by officers as part of their investigation into the murder of Jean McConville in 1972.
The PSNI is sending a file to the Public Prosecution Service for it to decide whether to bring charges against Mr Adams.
Mr Gilmore said all parties must await the outcome of that process.
Mr Adams has vehemently rejected allegations made by former republican colleagues that he ordered the abduction and killing of Mrs McConville.
He repeated those denials again last night at a news conference in Belfast following his release.
The rapturous welcome Mr Adams received in a west Belfast hotel was in marked contrast to the angry scenes outside Antrim Police Station as loyalists protested at his release.
There was disorder in the loyalist Sandy Row area of Belfast last night with petrol bombs and stones thrown, but no one was injured.
The TD for Louth criticised the police's handling of his arrest but moved to dispel any suggestion that Sinn Féin's commitment to policing had wavered in the wake of the affair.
His arrest on Wednesday triggered a bitter political row at Stormont.
Sinn Féin accused an "anti-peace process rump" within the PSNI of orchestrating the detention with the aim of damaging the party ahead of the European and Local Elections.
This was angrily rejected by political rivals, whose fury intensified when senior Sinn Féin figures indicated that their support for the police – a critical plank in the peace process – would be "reviewed" if Mr Adams was charged.
DUP leader and First Minister Peter Robinson denounced those remarks as "bully boy" tactics.
Taoiseach Enda Kenny and British Prime Minister David Cameron spoke yesterday to discuss the situation surrounding Mr Adams's arrest.
Last night, Mr Adams questioned the timing of his detention and said police had unnecessarily used "coercive" legislation to detain and question him.
But he said: "Despite this, I want to make it clear that I support the PSNI. I will continue to work with others to build a genuinely civic policing service.
"The old guard which is against change – whether in the PSNI leadership, within elements of unionism, or the far fringes of self proclaimed but pseudo republicans – they can't win.
"The dark side of the British system cannot be allowed to deny anyone, any of our people – Catholic, Protestant or dissenter – to their entitlement to a rights-based citizen society as set out in the Good Friday Agreement."
Mrs McConville's son Michael last night called for an independent investigation into his mother's death by a team from outside Northern Ireland to ensure that no "political pressure" is applied.
TOP STORIES

RTÉ News – News Headlines