Sunday 23 February 2014 14.30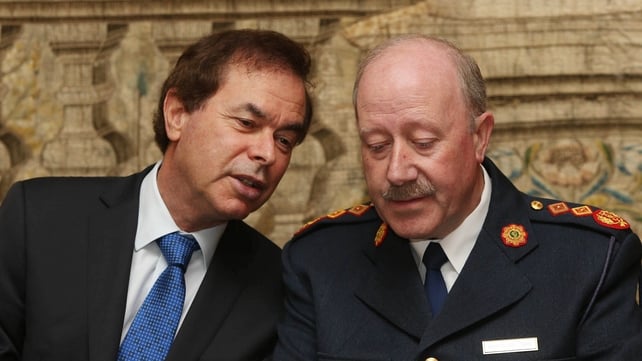 Series of emails shows contact between Alan Shatter and Martin Callinan
Garda Commissioner Martin Callinan informed the Department of Justice about Garda whistleblower Maurice McCabe's engagement with an internal Garda penalty points inquiry team, according to documents seen by RTÉ's This Week.
Justice Minister Alan Shatter has been asked to explain who told him that Sergeant McCabe had not co-operated with that inquiry.
Communications Minister Pat Rabbitte last week said Minister Shatter may have been "mistaken" when he told the Dail on 1st October last that Sgt McCabe did not co-operate with the inquiry.
According to one of the emails seen by RTÉ, Sgt McCabe wrote to Mr Shatter in late October 2013 asking him to explain who had told him that the whistleblower had been "offered the opportunity… to submit any evidence or other relevant information…. but did not do so".
Sgt McCabe told the minister that he was "never afforded a right of reply or a right of response" after he complained about alleged widespread abuse of penalty points cancellation by members of the force.
Sgt McCabe asked the Department to supply any documents in Mr Shatter's possession to support the claim that he had not co-operated.
Sgt McCabe wrote again on 3 December last year saying he was "very concerned that someone has told Minister Shatter information about me of a very serious nature and I am being refused the right to know the identity of the person or persons who advised him".
"I want to know now who advised Minister Shatter of this and when. If you refuse to give me this information I would like to know the reason why you are refusing me? I have the right to know who passed this information to Minister Shatter and when.
"If you refuse to give me this information I would like to know the reason why you are refusing me. I have a right to know who passed this information to Minister Shatter," Sgt McCabe wrote in the email.
A senior official from the Department wrote back to the garda whistleblower by email the following day, 4 December, insisting that Sgt McCabe had been offered the chance to provide further evidence to the head of that inquiry, Assistant Commissioner John O'Mahony.
The official said "our understanding on this comes from the Garda Commissioner".
The correspondence also shows that Sgt McCabe wrote to the Taoiseach as early as 21 April last, expressing his concern at not being interviewed by the internal Garda inquiry.
He told the Taoiseach he had "serious concerns regarding not being contacted or interviewed regarding my allegations. It would appear that the (O'Mahony) investigation is complete and if this is the case it's a shocking development. One would imagine that I would be one of the first to be interviewed".
Under questioning at the Oireachtas Public Accounts Committee last month, Asst. Comm. O'Mahony said his team had not interviewed Sgt. McCabe prior to compiling his report.
The correspondence also shows that a senior official at the Department of Justice wrote to Sgt. McCabe on 20 September 2013, telling him that the correct course of action was for him to bring any material he had in his possession to the attention of a member of the Oireachtas, or an Oireachtas Committee or to another legally allowed recipient.
Garda Commissioner Martin Callinan later described the whistleblower's actions – in bringing this information to public attention – as "disgusting".
He also wanted the committee to return boxes of evidence relating to allegations of penalty points fixing which had been given to it by the whistleblower.
Under section 62 of the Garda Síochana Act, a member of the force is legally entitled to bring information of this nature to the attention of any member of the Oireachtas or Committee.
A spokesman for the Garda Commissioner said he would not be making any comment.
TOP STORIES

RTÉ News – News Headlines