Updated: Monday, 28 Apr 2014 09:22 | Comments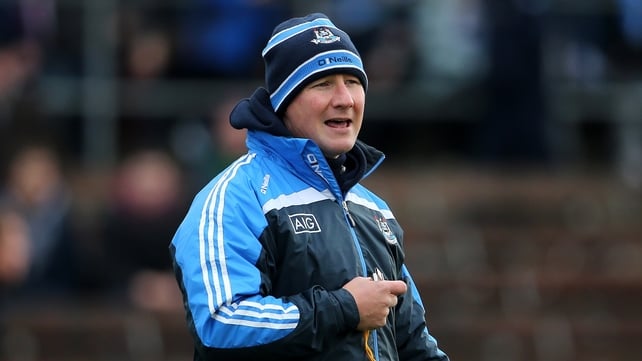 Jim Gavin said he and his management team were fortunate to be working with the current Dublin squad
Audio
By Padraic Ryan
Dublin manager Jim Gavin hailed what he described as "a great collective ethos" in his squad after their Allianz Football League Division 1 win over Derry.
Speaking to RTÉ Sport, Gavin identified a mixture of natural technical ability and hard work as elements of Dublin's success.
"The management team and myself are fortunate enough to be working with naturally technically gifted players, and that makes our jobs a lot easier," Gavin said.
"The guys are a very dedicated and determined bunch of men, and they do an awful lot of practice on their technical skills, but with us in contact sessions an awful lot as well, but to see that transfer from the training field to a live match is very pleasing as well."
"The guys are a very dedicated and determined bunch of men" – Jim Gavin
Gavin was delighted with the League win, but said Dublin would now quickly turn their attention to the summer's Championship.
"Obviously there's a trophy at the end of [the League campaign], and it's pleasing to win that," he said, before pointing out, "but it's not Championship. And our focus not switches quite quickly to Championship."
Gavin praised the performance of Bernard Brogan, who ended up with a personal tally of 1-06, but also highlighted "some great outfield work to set him up for those scores".
He said that Brogan had done a lot of work behind the scenes to get into good condition.
Gavin has experience of managing many of the Dublin squad, having worked them previously at under-21 level. He indicated it was pleasing to see these players coming through and having an influence on the senior squad.
"There's a lot of the guys there I would have worked with at under-21s, either in 2008, when I went back, or back to 2003, when a young Alan Brogan was on the field.
"[It's a positive] to see himself, or even Bryan Cullen, who didn't get a chance to play today, but himself and Declan O'Mahony were on the bench and they're trying very hard in our training sessions, and they're really setting the standard for other players to try and attain."
User contributions and/or comments do not, unless specifically stated, represent the views of RTÉ.ie or RT&Eacute.
Click here for Terms of use

RTÉ Sport sport headlines