Updated: Thursday, 23 Jan 2014 10:30 | Comments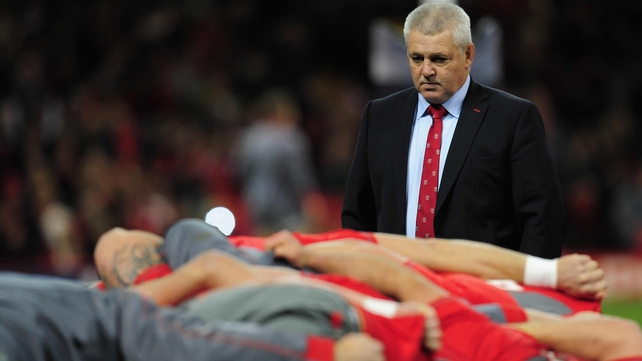 Warren Gatland: 'I did ask if he had any influence to try to make sure that the Irish fans didn't boo me too much at the Aviva Stadium.'
Warren Gatland admits the fallout from dropping Brian O'Driscoll for the summer's final Lions Test will put an "extra twist" on Wales' trip to Ireland in the RBS 6 Nations.
The Wales coach also revealed he returned the Christmas card favour to Ireland legend O'Driscoll to extend the running joke started at the Lions' Downing Street reception toasting their summer Australia tour series win.
Gatland omitted O'Driscoll from the Lions' final Test in July, a resounding 41-16 win to seal the series, sparking uproar in Ireland and disillusionment from the veteran 35-year-old centre.
O'Driscoll later joked Gatland would not be on his Christmas card list, before actually handing the Lions coach a card at the Downing Street meeting in September.
After practical-joke prompting, Gatland said he eventually sent a card back to O'Driscoll – asking the Ireland midfielder to tell the Aviva Stadium crowd to go easy on him when Wales pitch up in Dublin on 8 February.
"People who tried to turn it into an anti-Irish thing: I'm incredibly indebted to Irish rugby and the opportunities they gave me." – Gatland
"Donnacha Ryan rang me up and asked me to send Brian a Christmas card, which was a bit of a joke from the Irish boys," said Gatland. "So I sent him a Christmas card, and I wished him and his family well.
"I did ask if he had any influence to try to make sure that the Irish fans didn't boo me too much at the Aviva Stadium.
"I meant it as a joke, it's water under the bridge now and hopefully everyone can move on.
"I'm really looking forward to going back [to Dublin]. It's going to put an extra twist on the game, people are going to try to make something out of it as they always do."
Gatland has always struggled to understand the furore around him dropping O'Driscoll in Australia, and now hopes any lingering resentment will disperse.
The former All Black hooker gave O'Driscoll his international debut as Ireland boss, in his three-year tenure between 1998 and 2001.
Gatland believes he owes Irish rugby a huge debt of gratitude, especially in backing him to step up to international coaching aged just 34.
"It's easy for me to ignore it," said Gatland of the O'Driscoll saga.
"A lot of people are trying to make a big thing of the Irish situation, but at the end of the day I made my decision.
"And I just keep saying to people it's just a matter of opinion and that's what it is.
"It doesn't mean we didn't question ourselves and whether it was the right decision.
"People who tried to turn it into an anti-Irish thing: I'm incredibly indebted to Irish rugby and the opportunities they gave me.
"Starting off in the club I knew among the four regions, coaching Connacht and then gave me a chance as a 34-year-old to be an international coach.
"I look back and I'm incredibly grateful to the chances that Ireland gave me."
User contributions and/or comments do not, unless specifically stated, represent the views of RTÉ.ie or RT&Eacute.
Click here for Terms of use

RTÉ Sport sport headlines