Monday 13 January 2014 13.14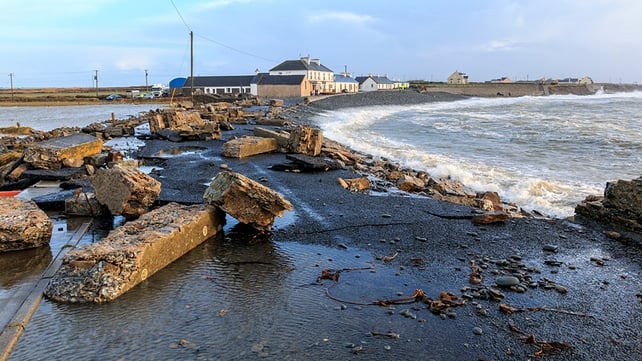 Large parts of the west coast suffered damage in the recent storms (Pic: Carsten Krieger)
Galway County Council is estimating that the total cost of the storm damage for the county is €18.32m.
Galway City Council is predicting that it will cost over €750,000 to carry out clean up and restoration work in the city in the aftermath of the recent storms.
Efforts to finalise the cost of repair work at the Leisureland complex in Salthill are continuing and have not been included in the estimate.
The council-run facility sustained extensive flood damage earlier this month. The gym and swimming pool are still closed to the public.
Mayo County Council will also meet this afternoon to consider the aftermath of flood damage.
It is understood the cost of flood damage in Mayo could also run into millions of euro.
In Galway, most of the clean-up effort is concentrated along the city's western fringes.
Salthill promenade sustained some structural damage and a significant amount of debris washed onto a coastal walkway close to Galway Golf Course, where pathways were ripped up by the storm surge.
Walls were knocked over at the Silver Strand beach and the cliff face there was further exposed by high tides.
The council's submission to the Government for funding does not include proposals for long-term measures, such as coastal defences to prevent against the risk of future flooding.
Councillors are discussing the city's response to storm events at their monthly meeting this afternoon.
Officials in Mayo have been examining the cost of the restoration effort in coastal areas and looking at the merits of taking action to try to prevent a recurrence of recent destruction.
A bridge washed away in the Carrowholly area, close to Westport, and there was significant coastal erosion in the area.
The stormy weather also resulted in flooding around Ballina and Belmullet.
A number of coastal roads have been blocked by rocks washed ashore.
TOP STORIES

RTÉ News – News Headlines