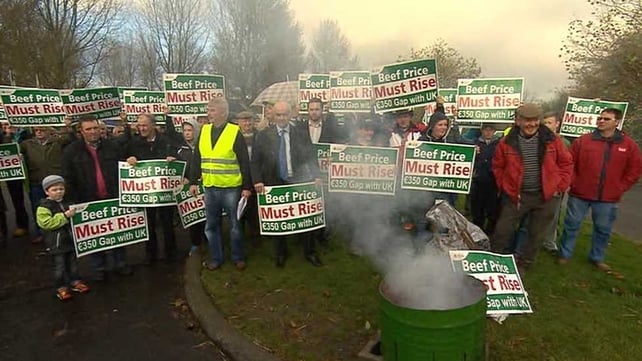 The IFA is staging protests outside 14 of the 29 meat factories across the country
The Irish Cattle and Sheep Farmers' Association is to hold talks with Meat Industry Ireland this morning as part of the current phase of negotiations on the beef crisis.
The meeting will be chaired by former secretary general of the Department of Agriculture Michael Dowling.
It comes as farmers continue a 48-hour protest outside meat factories across the country to highlight their anger at prices for cattle.
The Irish Farmers' Association has limited the protests to 14 of the 29 meat factories in the country.
The factories affected are those owned by Larry Goodman's ABP Food Group, Kepak, and Dawn Meats.
It is the second protest in less than two weeks.
The previous 24-hour protest is estimated to have cost the industry more than €10m in lost output.
Meat Industry Ireland has said the protest will cost the industry thousands of jobs.
Both sides are still divided over the large gap in cattle prices between Ireland and Britain.
ICSA President Patrick Kent said: "Price is obviously a source of huge anger.
"However, it is the underlying specs and abuse of the Quality Assurance Scheme by factories which have facilitated substantial price cuts over the past 12 months, costing farmers at least €170 million." 

RTÉ News – News Headlines