Updated: Friday, 25 Apr 2014 18:11 | Comments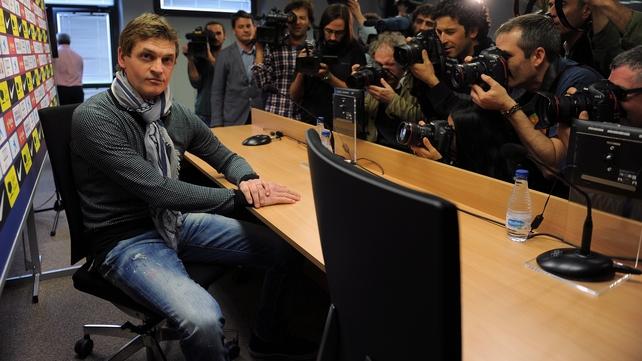 Tito Vilanova (b 17 September 1968 – d 25 April 2014)
Former Barcelona coach Tito Vilanova has died of throat cancer at the age of 45.
Vilanova led the Catalan club for a season after taking over from Pep Guardiola, but was forced to resign last summer because of ill health.
Barca said in a statement: "The club expresses their deepest condolences over the passing of Tito Vilanova , who died today in Barcelona at the age of 45."
"Thank you for everything you taught us. Rest in peace." – FC Barcelona
Vilanova, a former midfielder who spent his playing career largely in the Spanish second division, was Pep Guardiola's assistant for four years at the Nou Camp, the pair having previously worked together with the B team.
He was first diagnosed with parotid gland cancer in November 2011 and the disease returned in December 2012.
He was away from the team between December and late March as he underwent surgery and treatment, but still won the La Liga title before resigning in July last year.
This evening the club's president said: "Tito Vilanova was a wonderful person, and will never be forgotten at FC Barcelona. Thank you for everything you taught us. Rest in peace."
User contributions and/or comments do not, unless specifically stated, represent the views of RTÉ.ie or RT&Eacute.
Click here for Terms of use

RTÉ Sport sport headlines