Updated: Tuesday, 15 Apr 2014 08:24 | Comments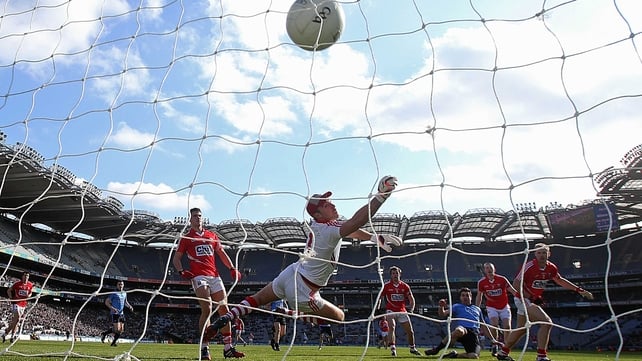 The Dubs produced a stirring comeback against Cork at the weekend
And then there were two. Derry will have the task of trying to wrestle the Allianz Football League Division 1 title from Dublin's grasp at Croke Park on Sunday week.
With Donegal and Monaghan set to battle it out for Division 2 honours beforehand, the spring campaign in football should have a fitting finale.
On the evidence of Dublin's second half dismantling of Cork in the semi-final, Brian McIver's Derry side will have it all to do to stem a blue tide that left the Rebels battered.
The tide in question took its time in unleashing its fury, but when it did, you could not but be impressed by the wonder of it all. Dublin have laid down a serious marker and it's still only April.
The last 35 minutes against Cork was as good as anything they produced en route to capturing last year's All-Ireland.
With the heat of the summer sun still to make an appearance, who knows how many more gears this Dublin side will find. As of now they are well-placed to become the first team since Meath in 1987-88 to win back-to-back League and All-Ireland titles.
The hallmark of any great side is that they do not know when they are beaten. Yet, when Cork went 2-11 to 0-07 up after 37 minutes on Sunday, the in-play betting surely favoured a Rebels success at rather skimpy odds.
Before the game I had gone for a Cork victory as I felt Brian Cuthbert's side had the wherewithal to make it a double success over the Dubs in this campaign. With Brian Hurley the tormentor-in-chief, Cork began with real purpose, running at a Dublin defence that often looked unsure of itself.
Goals from Colm O'Neill and Mark Collins made their dominance count on the scoreboard.
Up until the 40th minute Cork were still on course for a return to Croker and a date with Derry. Then Michael Darragh Macauley was on hand to plunder a Dublin goal. An unease of sorts began to take hold on the Cork psyche. That unease soon turned into a paralysis as Gavin's men, aided by their hosts' indiscipline and carelessness, began to fire over points for fun.
Eoghan O'Gara and Bernard Brogan were unleashed from the bench, and with Macauley brilliantly dictating affairs from the middle, Dublin had finally woken up and were now delivering a masterclass for the 28,000 plus crowd.
The contribution of Johnny Copper and Philly McMahon in the full-back line and Alan Brogan at corner forward should also be mentioned as the Dubs won the last-half hour 2-13 to 0-01.
As a unit Dublin have many leaders in their ranks and have the best squad around at the moment. On these pages last week, Joe Brolly highlighted the fact that Dublin, this spring, have retained the enthusiasm that saw them conquer all last year.
"Jim Gavin seems to be some sort of a Zen master and his team are his willing grasshoppers," – Joe Brolly
After the demolition of Cork, the RTE pundit was even more fulsome in his praise. He said: "I thought the Dubs were as extraordinary as we've come to expect over the last eighteen months. Nothing deters them and nothing sets them back. 
"You hear all these clichés about keeping your composure; the game is never over; keep playing; don't let anything deter you; don't get frustrated and don't panic. The Dubs live all that out. Jim Gavin seems to be some sort of a Zen master and his team are his willing grasshoppers.
"Everyone is so thrilled by the way that they play. It's a total pleasure to watch them play football. The ideal for Gaelic sport, or indeed any sport, is to play with ambition, adventure, spirit, bravery and courage.
"In the end Dublin totally tanked Cork and Cork would be one of the top four teams in the country. Not anymore!
"You also have to ask yourself, what is a safe lead against Dublin?"
Brolly's native county, you'd expect, will relish meeting the Dubs on 27 April, having already beaten them earlier this spring.
The manner of the win over Mayo, having played with 14 men since the 25th minute, will no doubt have pleased Derry supporters.
Christy McKaigue was a colossus at full-back, while the surging runs of Enda Lynn, Mark Lynch, Sean Leo McGoldrick and Emmet Bradley made life really comfortable for Mayo's half-back line.
Derry deserve their place in the League decider, and looking further ahead many GAA fans are anticipating a real ding-dong clash with Donegal in their Ulster opener.
As for Cork and Mayo, much soul-searching has no doubt already begun. The Rebels tank emptied very quickly last Sunday and manager Brian Cuthbert seemed at a loss as to how inject new life into his charges.
Not the first time Mayo lost a match at Croke Park that they looked to be in control of. For the second consecutive match at HQ, they failed to make numerical advantage count.     
User contributions and/or comments do not, unless specifically stated, represent the views of RTÉ.ie or RT&Eacute.
Click here for Terms of use

RTÉ Sport sport headlines