Updated: Thursday, 03 Apr 2014 07:21 | Comments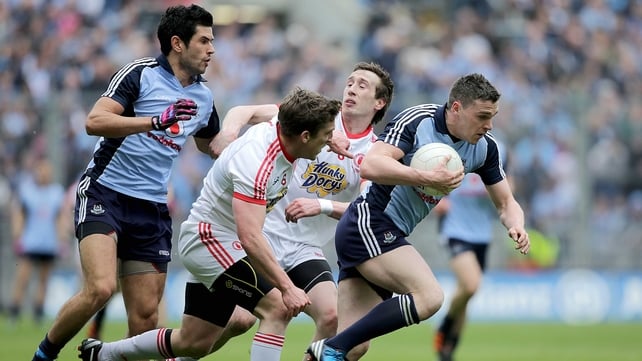 The meeting of Tyrone and Dublin is one of the many key clashes on Sunday
Audio
And so to the final round of matches in this season's Allianz League. Some counties can breathe easy knowing that they have reached a divisional final, while for Cork and Derry in the top flight, a semi-final spot has already been achieved.
For others, promotion and relegation issues still have to be sorted out. All told, there are many pieces in the jigsaw that still have to be joined together on Sunday next.
Let's go through each of the divisions to see exactly where we stand.
DIVISION 1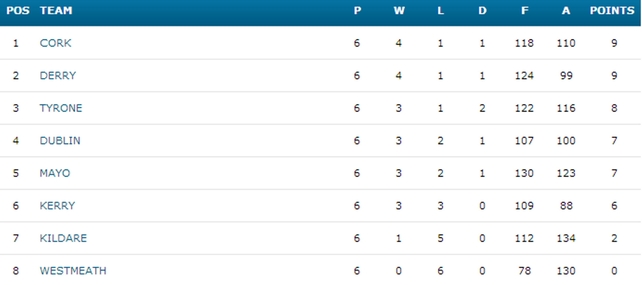 As already mentioned, Cork and Derry can now start focusing on their last-four engagements at Croke Park on 13 April. They lead the table on 9 points and are away to Kerry and Mayo, respectively, in their final round matches.
We already know that Kildare and Westmeath are relegated. Both counties meet in Newbridge on Sunday, where Paul Bealin's side will be hoping to at least get some points on the board.
That leaves Tyrone (8 pts), Mayo (7 pts), Dublin (7pts) and Kerry (6pts) fighting for the last two semi-final spots.
Tyrone and Dublin meet in Omagh. A win for either side will see them through to the knockout stage. Success for Mickey Harte's team would mean they would top the division if both Cork and Derry were to lose.
However, a victory for the Dubs, coupled with Mayo collecting the points against Derry, would see last year's All-Ireland finalists go through at the expense of Tyrone.
What about Kerry? Well, the Kingdom have to beat their near neighbours in Tralee to stand any chance of qualifying. That would move them on to 8 points. If Mayo and Dublin drew their games then we would have a three-way tie of teams on 8. However, Kerry would progress as their scoring difference is superior.
If the three key matches (Kerry v Cork, Mayo v Derry and Tyrone v Dublin) were all to finish level, then Tyrone and Mayo would join Cork and Derry in the semis.
DIVISION 2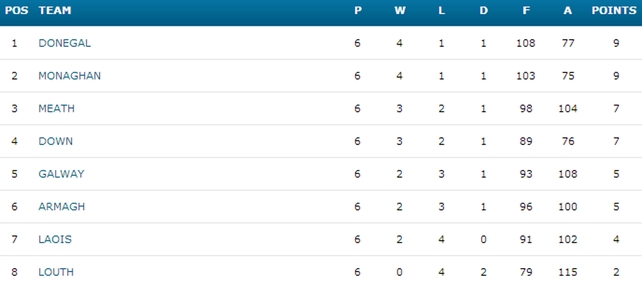 Monaghan and Donegal are in pole position to get promotion and qualify for the divisional decider on 27 April. Both counties are on 9 points and wins against Galway and Armagh, respectively, will put them in an unassailable position at the head of the table.
However, if defeats are their lot and Down and Meath (both on 7 pts) were victorious in their ties against Laois and Louth then a four-way tie at the top would result. Scoring difference would then come into play.
As things stand, Donegal (+31) and Monaghan (+28) have the advantage, compared to Meath's (-6) and Down (+13), though a significant victory for the Mourne County in Portlaoise would give them a chance.
At the bottom, Louth are already down to Division 3, with one from Galway (5 pts), Armagh (5 pts) and Laois (4 pts) set to join them in the third tier next season.
Wins for both Galway and Armagh will see them safe, irrespective of how Laois fare.
Survival for the midlanders depends on them beating Down and Galway and Armagh both losing. The head-to-head rule would then apply. As Galway beat Armagh the last day then it's the Orchard County who would be relegated.
A head-to-head involving Armagh and Laois favours Paul Grimley's charges, who ran out comfortable winners when the sides met at the Athletic Grounds.
Defeats for Galway and Armagh and a draw for Laois against Down would see the three counties all on 5 points. The Tribesemen have the inferior scoring difference and it is they who would make the dreaded drop.
DIVISION 3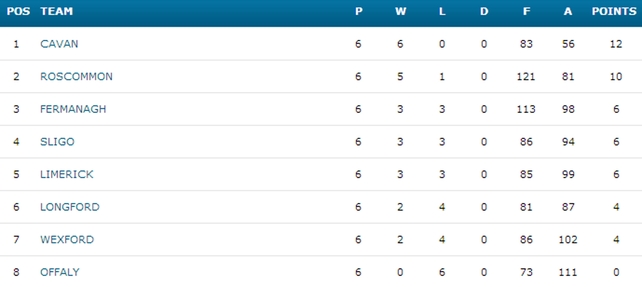 Cavan and Roscommon clinched promotion after Round 5, underlining their superiority in the section.
Offaly, still without a point, were relegated last weekend. Fermanagh, Sligo and Limerick, all on 6 points are safe in the division for another year.
This leaves Longford and Wexford on 4, battling it out at Wexford Park on the final day to avoid relegation. Quite simply the winner will stay up. A draw would keep Longford safe as their score difference is better.
DIVISION 4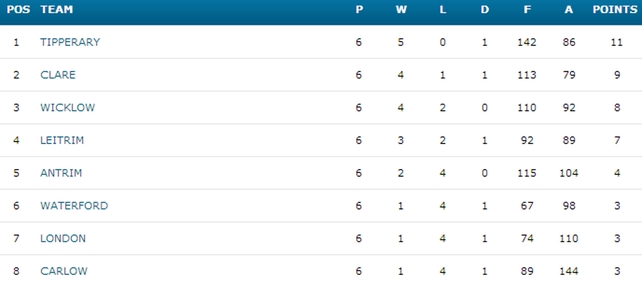 Tipperary clinched promotion with a comprehensive five-goal victory over Leitrim last weekend. They are on 11 points.
Clare (9 pts), Wicklow (8 pts) and Leitrim (7 pts) are in contention to join the Premier County in Division 3 in 2015.
Of the trio, Leitrim's chances are the slimmest. They would need to clock up a big score against London in Ruislip and hope that Clare and Wicklow both lose.
The Banner travel to Antrim and know that a win will guarantee them promotion.
Wicklow must beat Tipperary in Thurles, while hoping that 'Baker' Bradley's men can overturn Clare.
All tables via GAA.
Live coverage and updates of all Sunday's action from 14:00 on Sunday 6 April on RTÉ Radio 1, RTÉ RnaG and RTÉ.ie (Worldwide). Television highlights on League Sunday from 19:30 on RTÉ Two and RTE.ie (Ireland only).
User contributions and/or comments do not, unless specifically stated, represent the views of RTÉ.ie or RT&Eacute.
Click here for Terms of use

RTÉ Sport sport headlines