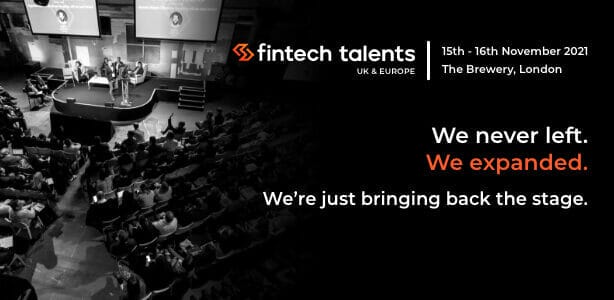 Fintech Talents London 2021 is set to be a festival of visionary ideas, practical innovation and deep dives into solving industry problems from a wide spectrum of financial services. There is expected to be over 6000 live and virtual festival goers including financial institutions, fintech companies and technology enablers.
Fintech Talents 2021
Here is everything you need to know:
When and where is it on?
15th&16th November 2021, The Brewery London 
How many years has it been going?
"This is the 3rd year of the Festival and we are thrilled to be bringing FTT Open Finance and FTT Embedded Finance to the event as well as bringing together our Future Identity community for the co-located Future Identity Festival at The Brewery." 
What was the inspiration to start it?
"Our ultimate goal has always been to provide value to our clients not simply through an annual event but via integrated campaigns that engaged our community throughout the year with relevant, engaging content, targeted events and our larger Festivals. Fintech Talents Festival is part of that multi-channel approach that brings our community together to share visionary ideas and practical innovation as well as deep dives into solving industry problems from a wide spectrum of financial services."
What exciting things can people look forward to?
"Better experiences lead to better engagement so Fintech Talents Festival is the fintech event re-imagined. From the Barista station to smoothie bar or the four stages covering everything from the fintech big questions to key themes around open finance and embedded finance there really is something for everyone. We are also co-locating this year's Festival with our new community and event, Future Identity, so attendees will get access to both Festivals and all four stages as well as curated meetings and networking opportunities whilst enjoying our craft beer sessions and live music." 
What opportunities are on offer for those attending?
"With over 2,000 live attendees, as well as a large virtual audience, the festival is a must attend for innovation leaders and technology companies looking to build connections with digital leaders across the UK's financial services ecosystem. We carefully curate opportunities throughout the festival for people to connect seamlessly. Whether it's in our one-to-one meeting lounge, at the first night's networking party whilst enjoying the craft beer and live music or at the barista station or smoothie bar. This combined with fireside chats and panel discussions from thought leaders across the industry this really is the only fintech event to attend this year." 
Who will be speaking?
"We have a large number of innovation leads and cutting edge technologists from across the financial services sector. In addition, we will be hearing from industry experts, technology providers and influential policymakers from across retail, healthcare, government, travel, financial services and other industries sharing their ambitions and collaboration around the future of identity." 
What tips would you give to people attending to get the most out of it?
"Listen, engage, debate, connect and enjoy a coffee, smoothie or beer on us!" 
How can people book tickets / when does it usually sell out?
Passes can be secured via the registration page here – https://www.fintechtalents.com/london-register/
The earlier the better to save up to £300 on the early bird rate and to avoid the disappointment of the Festival selling out!
If you're a Financial Institution or Digital Identity solutions implementer you can apply for a free pass using the same link and 'Applying for Free'
More information can be found on their website.
Article by [author-name] (c) Irish Tech News - Read full story here.