Thursday 20 February 2014 19.03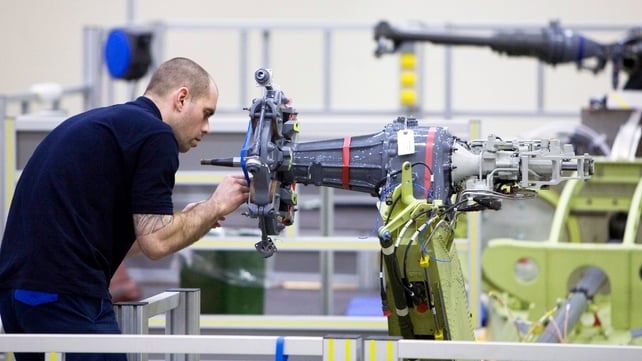 Markit's Composite Purchasing Managers' Index dipped to 52.7, just below January's 31-month high of 52.9
An expected acceleration in euro zone business activity failed to materialise this month and firms cut prices again to drum up trade, which may further stoke fears of deflation in the currency bloc, surveys showed today.
But the euro zone's recovery appears fairly broad-based, with growth across private industry near two and a half highs.
"The big picture is one of a region that is recovering. It is not a spectacular recovery, but it is certainly moving in the right direction with a couple of exceptions – notably France," said Chris Williamson, Markit's chief economist.
"The periphery has pulled out of its recession and Germany is positively surging," he added.
Markit's Composite Purchasing Managers' Index, which is based on surveys of thousands of companies and is seen as a good guide to growth, dipped to 52.7, just below January's 31-month high of 52.9.
That missed expectations in a Reuters poll for a rise to 53.1 but marked the eighth month in a row where the index has been above the 50 level that divides growth from contraction.
Williamson said the latest data point to 0.5% economic growth this quarter, stronger than the 0.3% predicted in a Reuters poll published last week. 
Germany's composite PMI rose to a 32-month high of 56.1 but in neighbouring France the index fell to 47.6 – falling below the break-even level for the third month.
A PMI covering the region's dominant service sector nudged up to 51.7 from January's 51.6, weaker than an expected rise to 51.9. The manufacturing PMI fell to 53 from 54, below all expectations in a Reuters poll of 37 economists.
The manufacturing output index, which feeds into the composite PMI, fell to 55.5 from January's 33-month high of 56.7
Worryingly for policymakers, the survey suggested inflation was not going up anytime soon – a composite prices charged index nudged higher to 49.4 from 49.2 but in holding firmly below 50 showed firms have cut prices every month for nearly two years.
"The weakness reflects countries which are struggling but some of that weakness reflects policies implemented by companies to increase competitiveness, to boost productivity and offer goods and services at a more attractive price – which is what everyone wanted," said Williamson.
Inflation dropped unexpectedly to just 0.7% across the euro zone in January, official data showed last month, well below the European Central Bank's 2% target ceiling.
Falling inflation has increased pressure on the ECB to consider fresh policy to counter deflation risks and support a fragile recovery that appears to be running out of steam.
But with few options available, having already slashed its main interest rate to 0.25% and given more than €1 trillion of cheap cash to banks for a three-year period, the ECB held policy steady when it met earlier this month.
TOP STORIES

RTÉ News – Business Headlines