1 of 3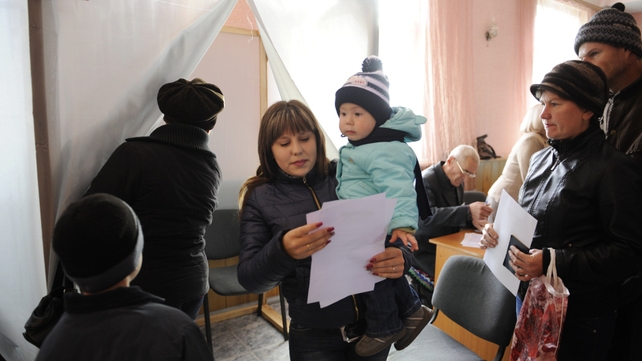 People cast their vote in the city of Sedove, Donetsk region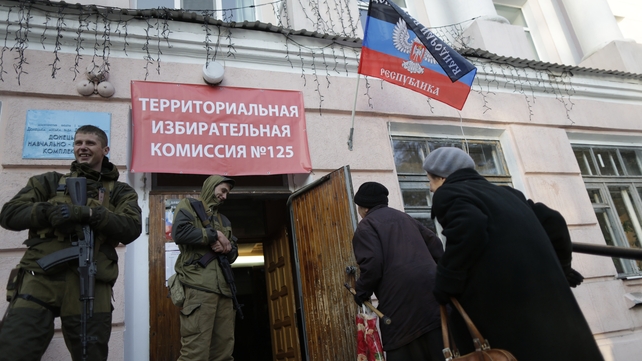 The elections are based around the two main rebel-held cities of Donetsk and Lugansk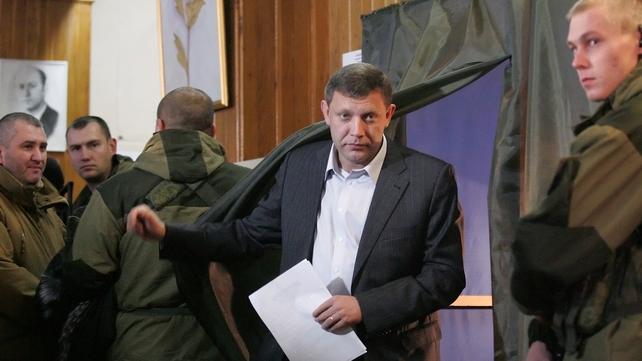 Alexander Zakharchenko is expected to be confirmed in his post in Donetsk
Ukrainian President Petro Poroshenko has called on Russia not to recognise the result of controversial leadership elections in eastern Ukraine, which he described as illegitimate.
"The farce that is being conducted under the threat of tanks and guns by the two terrorist organisations in parts of Donbass is a terrible event that has nothing to do with the real will," Mr Poroshenko said in a statement.
The elections in the self-declared Donetsk People's Republic and Lugansk People's Republic have threatened to deepen an international crisis over the conflict.
RELATED AUDIO & VIDEO
The elections, which are based around the two main rebel-held cities, were designed to bring a degree of legitimacy to the makeshift military regimes that already control them.
However, heavy fighting flared across the conflict zone in south-eastern Ukraine ahead of the election, which Mr Poroshenko has criticised as a violation of an already tattered truce deal signed on 5 September.
Russia, which supports the rebels but denies fighting on their side, has said it will recognise the results of the elections.
The United States and European countries, which have imposed heavy economic sanctions on Russia, back Ukraine in condemning the polls as illegal.
Both self-declared republics are choosing new presidents and parliaments, but there is little question that the current unelected rebel chiefs – Alexander Zakharchenko in Donetsk and Igor Plotnitsky in Lugansk – will be confirmed in their posts.
No international election monitors are present for the vote and no minimum turnout has been set by the organisers, reflecting the uncertainty over how many voters could turn out.
"These elections are important because they will give legitimacy to our power and give us more distance from Kiev," said Roman Lyagin, election commission chief of the Donetsk People's Republic.
Mr Poroshenko called the polls "pseudo-elections that terrorists and bandits want to organise on occupied territory".
The war has killed more than 4,000 people, including more than 300 in the last two weeks, since erupting in April.
A month earlier, Russian troops invaded Ukraine's southern province of Crimea, which was then annexed by Russia.
Polls opened at 5am Irish time and are due to close at 5pm Irish time.
Meanwhile, the Ukrainian military has reported "intensive" movement of troops and equipment from Russia into the separatist controlled area in eastern Ukraine.
"There is intensive deployment of military equipment and personnel of the enemy from the territory of the Russian Federation onto territory temporarily controlled by insurgents," said Andriy Lysenko, spokesman for the military.

RTÉ News – News Headlines