Monday 12 May 2014 07.41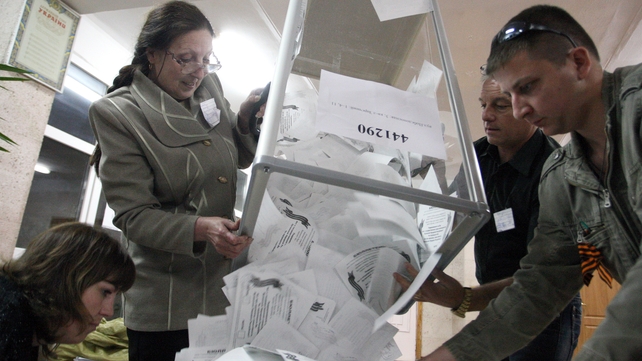 Members of a local election commission empty ballot boxes in Luhansk in eastern Ukraine
European Union foreign ministers meet in Brussels this morning to assess the continuing crisis in Ukraine.
They will also discuss the fallout from yesterday's "self-rule" referendums in two eastern regions.
The polls were described today as "farce without legal basis" by Ukraine's acting president, Oleksander Turchynov.
"The farce that terrorist separatists call a referendum is nothing more than propaganda to cover up murders, kidnappings, violence and other serious crimes," Mr Turchynov told Ukraine's parliament.
Pro-Russian separatists have proclaimed high turnouts in both polls, which have also been condemned by Europe and the US.
The Donetsk separatist electoral commission said last night that 89% had voted in favour of self-rule. A similar result is expected in Luhansk.
The votes have been accompanied by more seizures of government buildings by separatists.
Dozens of people have died in clashes between Ukrainian troops and pro-Russian rebels in the past week.
Some voters said they wanted stronger autonomy within a united Ukraine, others said they wanted an independent republic, while still more favoured joining the Russian federation.
EU foreign ministers are expected to extend existing sanctions against Russia, including the possibility of targeting companies associated with Russia's takeover of Crimea in March.
The EU remains reluctant to move to full economic sanctions against Russia, but if it succeeds in disrupting the 25 May presidential elections that may be unavoidable.
Speaking ahead of the meeting, Minister for European Affairs, Paschal Donohoe said an inclusive political process was needed to find a negotiated settlement to the crisis.
"As a first step, the Russian Federation must implement the terms of the joint declaration to which it agreed in Geneva on 17 April, but has so far failed to implement," Mr Donohoe said.
TOP STORIES

RTÉ News – News Headlines