Updated: Thursday, 05 Dec 2013 22:18 | Comments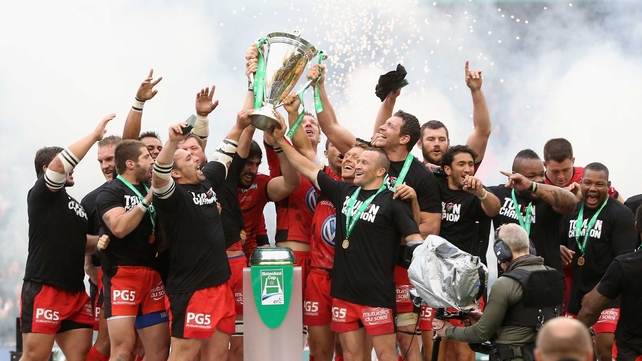 Next season's Heineken Cup will not have any English teams
English clubs are set for at least one season without any European rugby after they confirmed their refusal to take part in a revamped Heineken Cup next season, despite last week's decision by their French counterparts to return to the fold.
The chairmen of the 12 Premiership clubs, as well as representatives from Leeds and Bristol, met in London on Thursday.
"The English clubs have unanimously re-confirmed their position. Having served notice in June 2012, they will not participate in any competitions run by ERC (European Rugby Cup) from 2014-15 season," a statement said.
The English clubs initially had the support of French clubs and, later, some Welsh regions for a proposed "Rugby Champions Cup", but last week the French said they had been persuaded by their union to withdraw from the breakaway group – for a year at least.
English club owners and Premiership officials have been at loggerheads with ERC, which runs the Heineken Cup and second-tier Amlin Cup.
ERC has proposed a reformatted tournament for next season, featuring 20 clubs instead of the current 24, as well as changes in the distribution of income.
The unions of France, Ireland, Wales, Scotland and Italy – but notably not England – recently issued a joint statement saying they backed ERC and the plans for a revised competition under its control.
That prompted last week's U-turn by the French clubs, which was somewhat clouded by suggestions that their loyalty might be for one year only and that they might still want to change the governance of Europe's premier club competition the following season.
However, that was not enough to convince the English clubs to go back on their stated desire to leave and set up an alternative competition.
"ERC does not structurally recognise the role of the leagues and clubs in driving the success of club competitions, under the overall governance of Unions," the Premiership statement said.
"The ERC voting structure is controlled by Unions even though the majority of commercial value is created by the independent clubs which represent 75 percent of the participants.
"Proposals put forward to address a new structure within a Rugby Champions Cup were agreed by a majority of the Unions in October, alongside meritocratic competition formats and equitable financial distributions. However, these have not been accepted by all.
"The English Clubs have worked exhaustively over the last 18 months to propose solutions to the issues with the current European competitions and to provide a sustainable platform to grow the game in the various countries."
The Welsh regions have yet to comment on the latest developments but, under pressure from their union and in desperate need of finance and top-level competition to hold on to their top players, they are likely to switch back to the Heineken Cup.
England's top clubs, whose deal with UK broadcaster BT also presents a potential conflict with Sky's rights to show Heineken Cup matches, will now seek a way to fill the missing weekends, with games against South African sides being touted in the media as a possibility.
"The English clubs are now pursuing other options," the Premiership statement said.
English and Scottish clubs did not take part in the first Heineken Cup in 1995/96, English clubs boycotted the 1998/99 season and there was a proposed Anglo-French boycott in 2007/08, which was averted.   
User contributions and/or comments do not, unless specifically stated, represent the views of RTÉ.ie or RT&Eacute.
Click here for Terms of use

RTÉ Sport sport headlines