Updated: Thursday, 13 Mar 2014 22:42 | Comments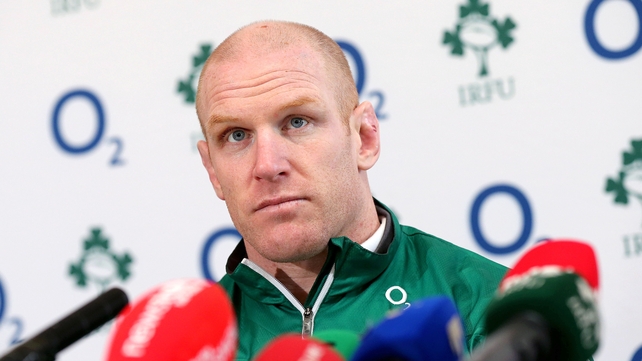 Paul O'Connell: We would have loved to have kicked on after 2009, but it didn't happen
By Tadgh Peavoy at Carton House
Ireland captain Paul O'Connell says winning the Six Nations title will go a long way to wiping away the disappointment of Ireland not "kicking on" from the 2009 Grand Slam and fulfilling their potential. 
Speaking ahead of this weekend's title decider against France in Paris, O'Connell said: "It certainly has [been disappointing]. We would have loved to have kicked on after 2009, but it didn't happen.
"It's in the past and we've moved forward. I think there's an excellent squad of players there [now].
"At the moment there's an excellent coaching staff and real potential. So you just have to move forward."
Since 2002, Ireland have lost to France in Paris on six occasions, and O'Connell feels that although it is hard to pinpoint the reason for such little success, Ireland's slow starts have been especially costly.
"It's hard to say. I think my memory in some games is giving France too much of a head start, having bad first halves, and having to catch up," he said.
"In many ways this weekend is set up to be that kind of start as well if we're not careful.
"The French have had their backs to the wall all week from the media criticism point of view, and I know that will have galvanised their team.
"And I know what that will have done to their mental state and their readiness to come out with a big, physical, intense first half, and I think that's something we've to be incredibly well prepared for.
"It's something we've discussed a little bit and hopefully something that we can counteract.
"At the same time, I've been there two years ago, we've scored two tries, and got off to a great start, and they've just such talent that they can really get back in and score from anywhere.
"That's what they've done in this year's championship.
"You look at the names on the team-sheet in the backline, they're guys that can score from all over the pitch.
"Their scrum is strong. If our kick-chase isn't wide, aggressive, far down the pitch, then they can do incredible damage off counter attack.
"If we turn over the ball loosely, that's where they're at their most dangerous and score tries.
"It's just one of those days where we need to concentrate on every moment and make every moment count" -Paul O'Connell
"It's just one of those days where we need to concentrate on every moment and make every moment count.
"If we can do that particularly in the first half period we're in with a great chance."
The lock also praised his Munster team-mate Peter O'Mahony, who has been recalled to the starting XV, complimenting the flanker's skill set, and that O'Mahony's greater experience may have prompted his selection over Iain Henderson.
"Peter is probably a bit further down the track in terms of his experience [than Henderson]," said O'Connell.
"I think first and foremost he's first choice with his province, so he's playing week-in, week-out, playing in that position, and learning all the little nuances of that position and maybe Iain hasn't had that throughout the year.
"Peter is the form player. He's been playing really well and his work on the ground in the earlier games has been brilliant, and created some really important penalties for us.
"He's obviously a really important lineout option and a good carrier. It's great to have him back in the side."
Ireland have let two leads slip under head coach Joe Schmidt, against New Zealand and England, and also blew another at home to France last season under Declan Kidney.
As to how to prevent repeating that again at Stade de France on Saturday, O'Connell said: "I think taking a lead and seeing it out is the same as trying to get a lead at the start of a game. It's about doing all the simple things well and not giving the other team a look," he said.
"When you play France, kick-chase becomes one of the most important parts of the game: chasing as a group with the right spacings at the right pace. Not turning over ball against France becomes an incredibly important part to the game.
"We've seen throughout the championship that they've scored tries off turnover ball.
"You look at last year's game against France, with six minutes to go we we're five points ahead and we concede a penalty off a scrum and they get over the line, and they're frustrating and disappointing tries, and tries you don't want to concede.
"So for us, it's just about getting the processes right, whether we're five points behind or five points ahead.
"You saw against England we went 10-3 up and then made some errors, some defensive errors, some kick-off errors, some missed tackles. That's what gives the other team the momentum, doesn't matter if it's the start of a game or the end of the game."
In terms of how this squad approach a game, O'Connell revealed that rather than concentrating on match quarters, or eighths, coach Schmidt has his team focus on every individual play and trying to break it down to focusing on the job at hand at that very instance.
O'Connell said: "Joe is very process driven.  When we call a play it doesn't matter whether it is to get us into their half of the pitch, or whether it's to try and break them down.
"It's about doing that single play and your job at the start of the play: be it scrum, be it lineout, be it the first ruck, the second ruck.
"It's about doing that play as aggressively as you can, and with as much detail about being in the right place. So, it probably doesn't really matter what part of the game it is.
"Certainly from our point of view, and from Joe's point of view, it's all about the next play in front of you and getting the process right for that."
User contributions and/or comments do not, unless specifically stated, represent the views of RTÉ.ie or RT&Eacute.
Click here for Terms of use

RTÉ Sport sport headlines