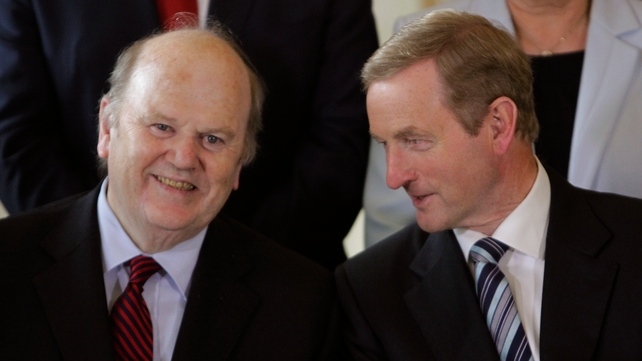 Michael Noonan gave the improved forecast ahead of Fine Gael's think-in, which is taking place in Cork
The economy is set to grow by a better-than-expected 3% this year, according to Minister for Finance Michael Noonan.
Meanwhile, Minister for Expenditure and Reform Brendan Howlin has said the German government has backed Irish plans to refinance some of its bailout loans, which would help cut the cost of servicing the country's debt.
Speaking ahead of Fine Gael's think-in in Co Cork, Mr Noonan upgraded an earlier forecast for growth of 2.1% and said the economy would also grow by 3% in 2015 after seeing unemployment fall below the euro zone average, retail sales rise and exports rebound.
"The department of finance official figure for 2014 is we're going to grow just ahead of 3% and next year we'll be around 3% as well," he said.
"That's very strong when you look at growth rates across Europe. I can see a number of things that could see growth slip back but if it's managed prudently, you could run that for a decade and solve the problems that Ireland has."
The robust growth, in contrasts to the stalled recovery in much of the euro zone, could help further ease up on austerity measures in next month's Budget, which have already been helped by better-than-expected Exchequre returns in the year to date.
Separately in Paris, Brendan Howlin said the German parliament had set a date to ratify Ireland's request to refinance its bailout loans from the International Monetary Fund, a measure that would save billions of euros but needs sign-off from European Union members.
The measure could save some €1.5bn over the next five years, "an awful lot of money in Irish terms", Mr Noonan said.
Mr Noonan, who this week put the proposal to European officials including ECB President Mario Draghi and Eurogroup President Jeroen Dijsselbloem, said it could be some time before it is signed off. 
However Mr Howlin said political agreement could be reached at the informal finance ministers' meeting in Milan this week.
Mr Howlin also said the European Central Bank was not putting pressure on Ireland to accelerate the sale of new bonds it pledged to issue in a deal struck with Frankfurt last year that reduced the burden of state-owned bank debts.
"All those we have talked to – Draghi, Dijsselbloem, Schaeuble and others – are on board. The Finnish parliament has endorsed it. The German parliament has set a date to ratify it. Nobody is against," Mr Howlin said in Paris.
"Of course the ECB want us to redeem it as fast as we can. They are happy with the schedule for selling back into the market. They have not connected the two issues."

RTÉ News – Business Headlines