Updated: Tuesday, 22 Apr 2014 15:27 | Comments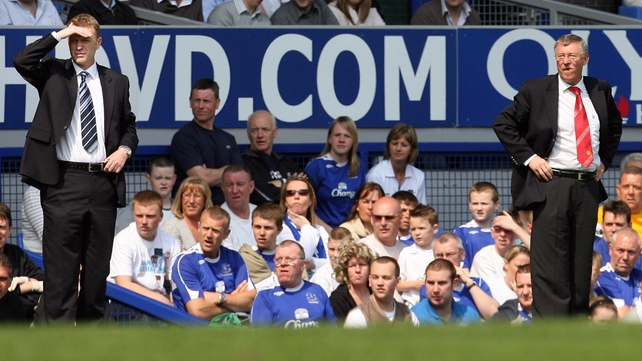 Alex Ferguson was given time denied to David Moyes, according to Eamon Dunphy
Audio
The sacking of David Moyes as Manchester United manager was a predictable end to an appointment that was always going to end badly, according to Eamon Dunphy.
Speaking to RTÉ Sport, Dunphy said that Alex Ferguson's legacy for David Moyes "was very, very poor, despite the fact they won the championship last year by 11 points. And, I think, you need to be a large character, and you need time."
Dunphy pointed out that Ferguson had been given time denied to Moyes, and that's United corporate considerations were key in United making the move to dismiss Moyes.
"Alex Ferguson won nothing for the first three years at Manchester United," Dunphy said. "He struggled, he was almost sacked. He came within a week of being sacked.
"David Moyes wasn't given that luxury [of time] because Manchester United today is the biggest sporting corporation in the world. It has the share prices; it's publicly quoted on the New York Stock Exchange.
"Hedge funds have been shorting it – in other words, betting against Moyes – there's too much at stake for the [owners] Glazers to let this linger on."
Dunphy said Ferguson was a "force of nature and quite unique" and that United should have looked for a replacement with a big personality and a track record of success.
"He inherited a mess, he'd never won a trophy in his life before going there," Dunphy said.
"The names that are popping up now; Louis van Gaal, for example, Diego Simeone, [Jurgen] Klopp at Borussia Dortmund: these are big beasts in the jungle of management""
Dunphy said that it was mistake that Ferguson had been allowed to have a say in his successor, and suggested that Ferguson had been out of his depth in giving advice to United's owners.
"Alex Ferguson is a football manager. It's the Peter principle; he was promoted beyond his capacity. He's on the board. He was the main advisor to the Glazer family. He won't be any more.
"Alex Ferguson's influence will have waned. He was sitting in the stand every week, the cutaways from the television cameras would show him sitting there, glowering. All of this doesn't help David Moyes.
"But it isn't the essential feature in [Moyes'] failure. He didn't really have the stature as a football man to do it, and he didn't have the players who were good enough."
Dunphy warned that United's troubles were likely to go on for three or four years, saying that any new manager would not immediately have the players needed to reclaim the success of the Ferguson years.
He also suggested that any new manager would need to deal with players continuing to go to Ferguson for advice.
"Manchester United is not only a corporation," Dunphy said. "It's a very large family of old ex-players, and former players […] and I'm sure in recent months, older players, senior players have been talking to Ferguson. So you're walking into a soap opera there."
Dunphy said that interim coach Ryan Giggs would have the respect of United players for the four remaining games of the season, but that he would be unlikely to get the job on a permanent basis.
"He needs experience in management. To start off in management at Manchester United having been a player is impossible."
Instead, Dunphy tipped Atletico Madrid boss Simeone as being the best fit. "Diego Simeone has done an extraordinary job at Atletico Madrid," he said.
"Like Alex Ferguson – his profile is actually exactly the same – Simeone has broken the duopoly in Spain between Barcelona and Real Madrid. He won two championships in Argentina with different clubs. He's won the Europa League. He is the person who is young enough and right for this job, and he's the guy they should get."
User contributions and/or comments do not, unless specifically stated, represent the views of RTÉ.ie or RT&Eacute.
Click here for Terms of use

RTÉ Sport sport headlines