Updated: Monday, 28 Apr 2014 00:31 | Comments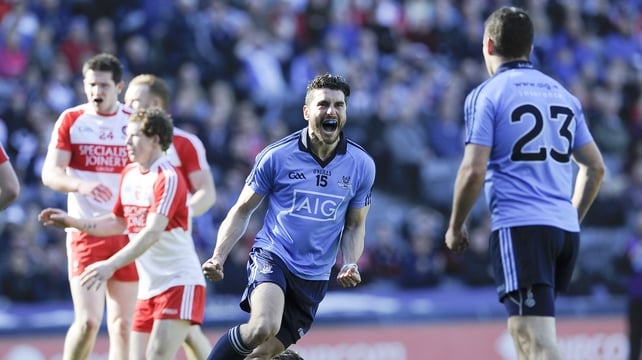 Bernard Brogan scored 1-06 as Dublin ran riot
Audio
By James McMahon
Like an unstoppable juggernaut, Dublin footballers easily retained their Allianz Football League Division 1 title against a Derry outfit who operated in the slow lane for much of Sunday's final at Croke Park.
Thoughts now turn to the championship.
Over the last decade, teams that have had a productive spring tend to flourish even more when the sun is high in the sky. As of now we don't know how good this Dublin side will be in a few months from now.
What we do know is that it will take a good team to stop them from winning back-to-back All-Ireland titles.
Jack O'Connor and Eamonn O'Hara were on hand to see the demolition of Derry. Both men were impressed when they spoke to RTÉ after the 3-19 to 1-10 win over Derry.
"To be honest with you, Dublin were awesome," revealed O'Connor.
"I know Derry were disappointing but I don't think any team would have lived with Dublin.
"They have huge options for the championship.  They have two or three serious U-21s still to come back so you'd expect no slackening off in training in the weeks ahead," he added.
"They also have athletes – guys who make 60 or 70 yard runs to support a player" – Eamonn O'Hara on Dublin
O'Hara was struck how at how well-oiled this Dublin machine is.
He explained: "Dublin were relentless in terms of their tackling against Derry. Tactically, they are very well set up and their technical ability in terms of executing foot passes and hand passes is top quality. 
"They also have athletes – guys who make 60 or 70 yard runs to support a player. It's flat out. You can find a corner back or corner forward in almost any position on the field.
"Dublin have an unbelievable level of talent at their disposal.  If they continue to improve I don't see a team at this present moment to match them."
What of Derry? Will this hammering set them back? Jack O'Connor wasn't offering many crumbs of comfort.
He said: "It looked as if they had the game lost in their heads before the start. That's a danger in terms of the future if teams think they are beaten before they face Dublin.  You have to have serious self belief to match them. Derry didn't have it.
"They have to go back and re-group ahead of the meeting with Donegal. That's a big game for them, but this defeat today will damage morale. 
"Quite simply they never got to the pitch of the game."
O'Connor was slightly more optimistic when asked whether Dublin's colours can be lowered at some point this year.
"Any team can be beaten on any given day. Dublin do cough up goal chances. They can be open at the back.
"Kerry exposed them last year with 'Gooch's' passing.
"Dublin almost play with a bit of arrogance and tend not to put a spare man in front of the full-forward line.
"That's where you may catch them out – provided you get the goals at the other end."
User contributions and/or comments do not, unless specifically stated, represent the views of RTÉ.ie or RT&Eacute.
Click here for Terms of use

RTÉ Sport sport headlines