Thursday 06 February 2014 17.53
1 of 2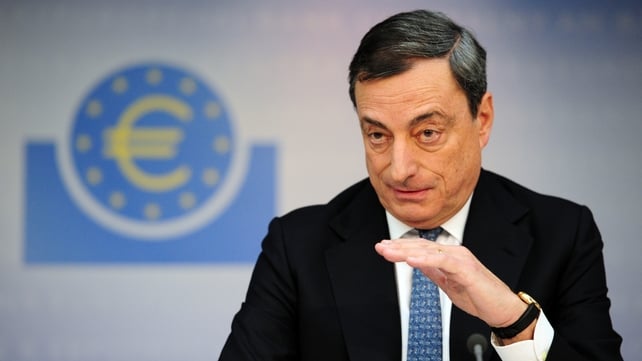 ECB President Mario Draghi wary of euro zone inflation getting stuck in 'danger zone'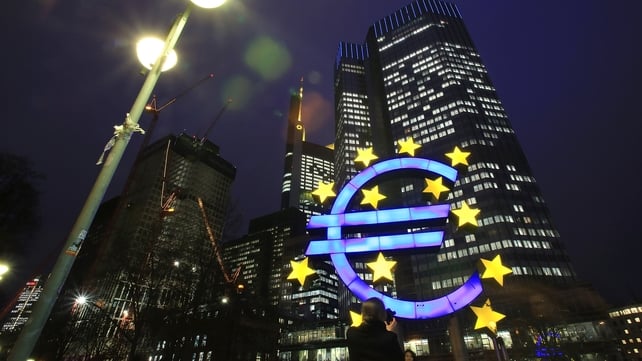 ECB policymakers make no changes on euro zone interest rates
The European Central Bank has left interest rates at a record low but said it remained ready to act, acknowledging that emerging market turbulence could hit the euro zone.
Risks to the euro zone's economy remain skewed to the downside, ECB President Mario Draghi said after interest rates were held at 0.25%, and inflation would be low for a protracted period.
Mr Draghi said that the euro area is not experiencing deflation – a widespread sustained fall in prices – even though inflation is very low.
He insisted that what the euro zone was currently experiencing was disinflation – a period of very low inflation – but not deflation.
"Developments in global money and financial market conditions and related uncertainties, notably in the emerging market economies, may have the potential to negatively affect economic conditions," Draghi told a news conference in Frankfurt.
"The reason for the decision not to act has really to do with the complexity of the situation and the need to acquire more information," he said.
Mr Draghi also said that while euro zone unemployment is stabilising, it remains at a very high level in the euro zone.  
A sharp drop in euro zone inflation to 0.7% in January, well below the ECB's target of just under 2%, would have focused policymakers' minds, particularly since emerging turmoil could put further downward pressure on prices.
The ECB also left the deposit rate it pays on bank deposits at zero and held its marginal lending facility – or emergency borrowing rate – at 0.75%.
If emerging market turmoil persists, a move is more likely next month when the ECB's staff will produce fresh economic forecasts. If they downgrade their inflation estimate – already at just 1.2% for 2014 – action could follow.
"Further information and analysis will become available in early March," Mr Draghi said, adding that the forecasts will include a first look at 2016.
Inflation expectations, he said, remained firmly anchored. If that assessment changes then a significant policy response would be likely. "There is certainly going to be subdued inflation, low inflation for an extended, protracted period of time, but no deflation," the ECB boss said.
Money market traders had expected no change in rates, nor any other policy steps, a Reuters poll taken earlier this week showed. 
The Bank of England faces a different problem – trying to convince markets that resurgent growth will not require an early interest rate rise. It too left policy on hold. 
The ECB is wary of inflation getting stuck in what Draghi has dubbed a "danger zone" below 1% and vowed again to keep rates at present or lower levels for an "extended period".
An emerging market selloff risks forcing the euro higher, which would put more downward pressure on prices.
For now, economic recovery is intact, though still in its infancy. The euro zone's private sector logged its busiest month in two and a half years in January, surveys showed yesterday.
"We must be extremely cautious about this recovery. It is still fragile and it is still uneven," Draghi said.
A month ago, he set out markers for further ECB action, pledging the central bank would take action if its inflation outlook worsened or money markets saw "unwarranted" tightening.
But the ECB does not have a lot of ammunition left to boost inflation. There might be only one more rate cut in its arsenal and even that would be smaller than the traditional quarter point.
Short-term interest rate volatility has been another headache for the ECB. By refraining from action, the ECB risks making it more difficult to convince markets of its easing bias and keep the euro from shooting up.
To prevent spikes in market rates, the bank could choose to end offsetting government bond purchases made when the euro debt crisis was raging, which would add about €175 billion to the money markets.
Mr Draghi said that was one option under consideration but was not discussed at the meeting. "We remain firmly determined to maintain the high degree of monetary accommodation and to take further decisive action if required," he said. 
TOP STORIES

RTÉ News – Business Headlines