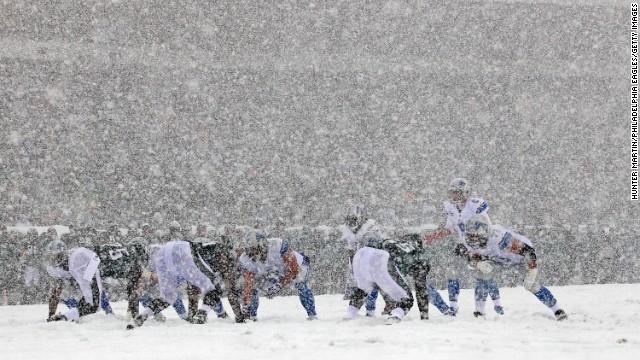 The Detroit Lions and Philadelphia Eagles play during heavy snow in Philadelphia, Pennsylvania, on Sunday, December 8. A frigid winter storm system made its way across the country over the weekend.
Icicles hang in Eugene, Oregon, on Saturday, December 7.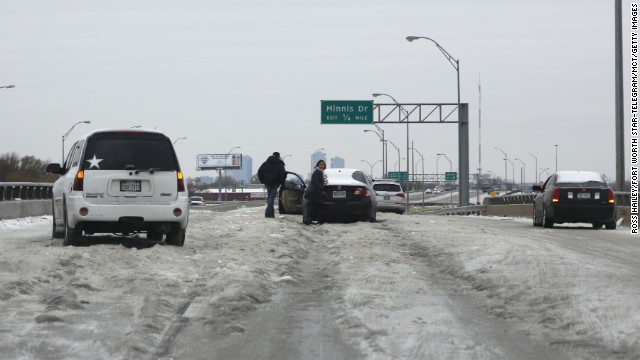 Motorists struggle to cross the icy bridge leading to Minnis Drive in Haltom City, Texas, Saturday, December 7. Large ice ruts made passage difficult. Ice remains Saturday after low temperatures refroze sleet from Friday's storm that had begun to melt.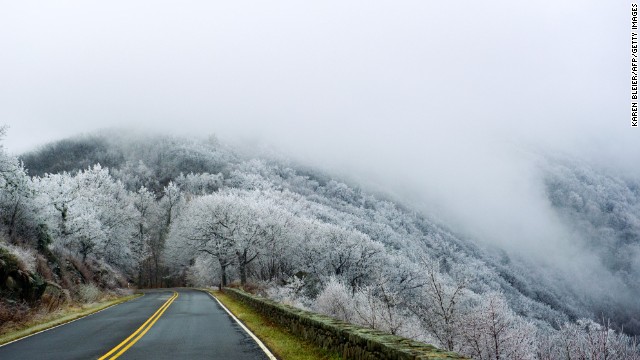 Moisture from low-lying clouds coats trees in Virginia's Shenandoah National Park with a layer of ice and frost on December 7.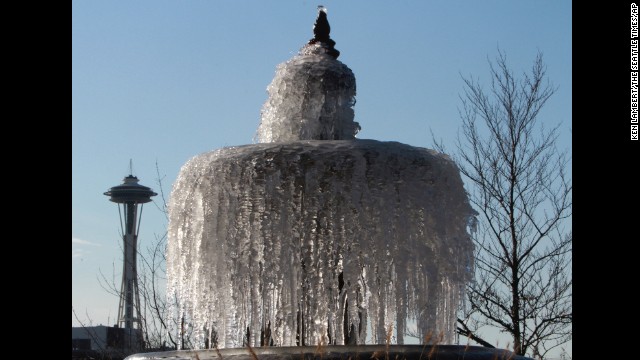 A fountain stands frozen in Chandler's Cove at South Lake Union in Seattle on Friday, December 6.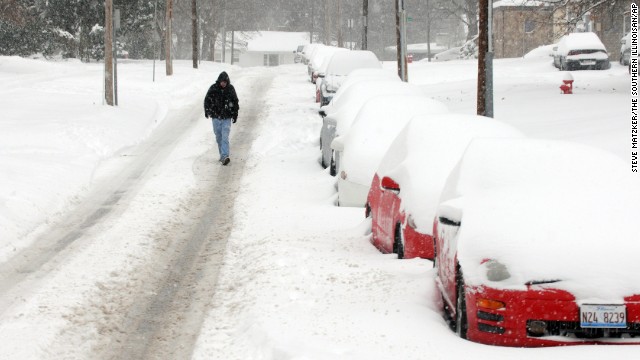 A pedestrian walks down the street after a heavy snowfall on December 6 in Carbondale, Illinois.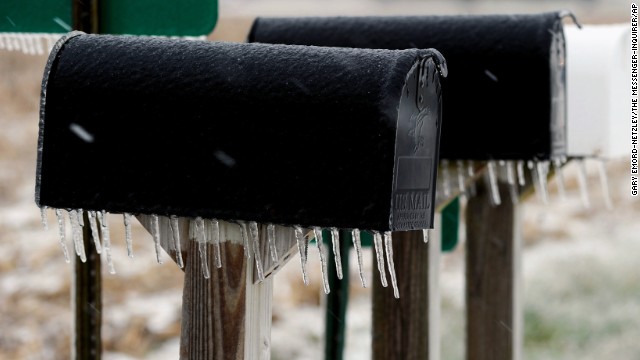 Icicles hang from mailboxes in Owensboro, Kentucky, on December 6.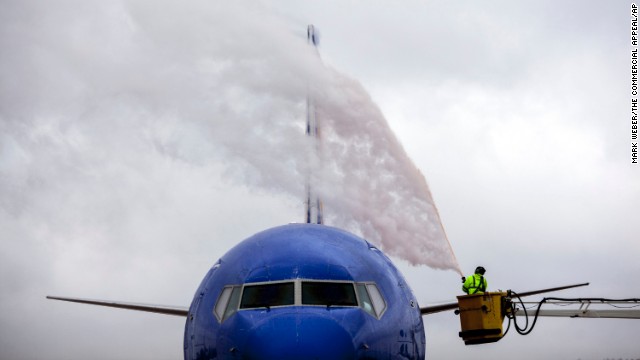 A worker at Wilson Air Center de-ices an airplane before it takes off from Memphis International Airport in Memphis, Tennessee, on December 6.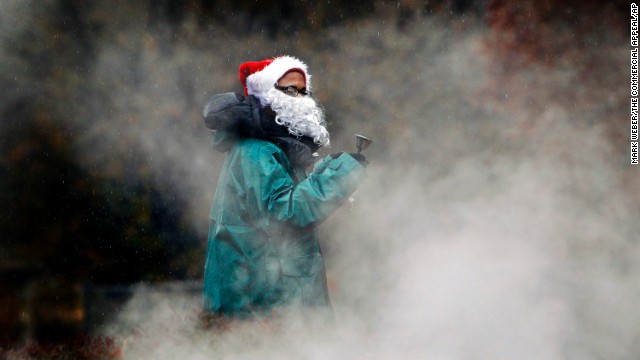 As freezing rain falls, Tyshun Lindsey, 15, rings a bell to get drivers' attention while selling bags of pecans in Memphis on Friday, December 6.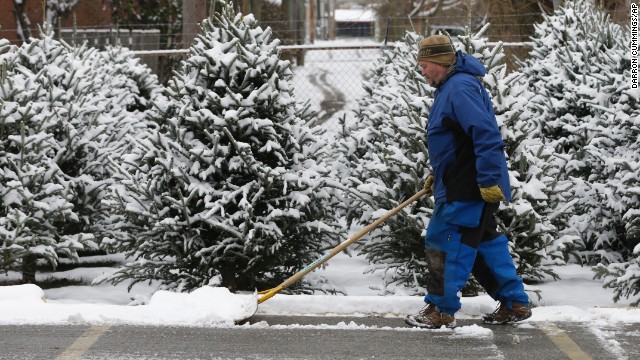 A man clears a path for Christmas tree shoppers in Indianapolis on December 6.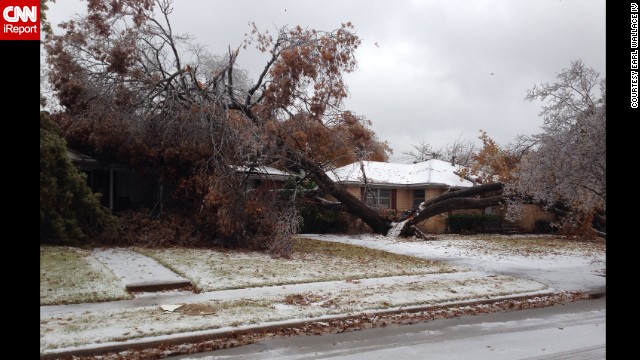 A tree, split in two, lays on two homes on December 6 in Dallas in this photograph taken by CNN iReporter
Earl Wallace IV
.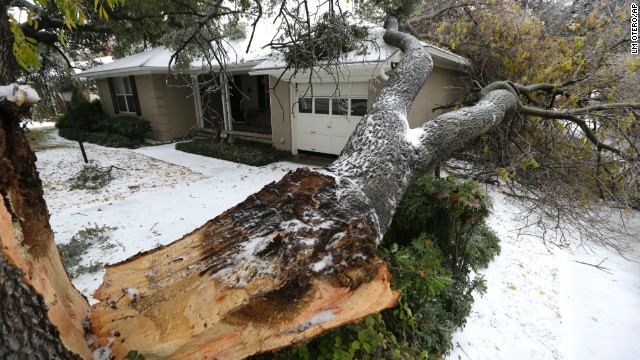 A fallen tree rests on a house in Richardson, Texas, on December 6.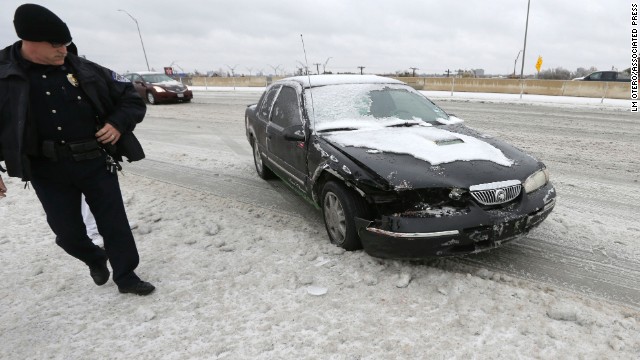 A police officer surveys a car damaged in an ice-related accident on a highway overpass in Richardson, Texas, on December 6.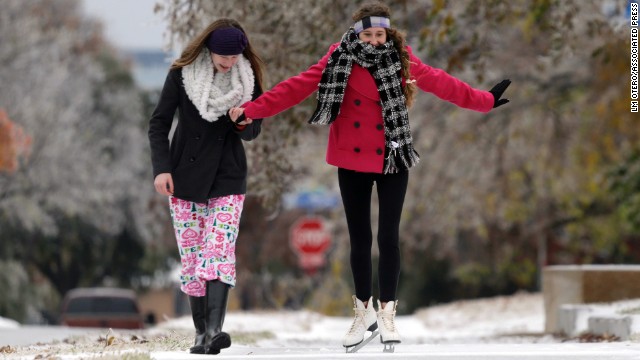 Jane Giles, 15, right, gets some help from her sister Sarah Giles, 17, as she skates on an icy sidewalk in Richardson, Texas, on December 6.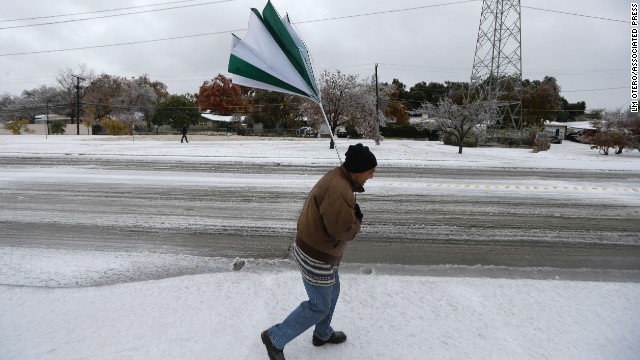 A gust of wind collapses Joseph Mezo's umbrella as he walks to work on December 6 in light sleet and ice conditions in Dallas.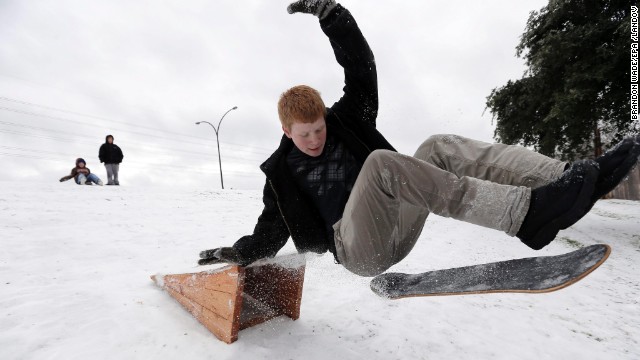 Matthew Eller catches air after sliding down a hill and jumping a ramp in Arlington, Texas, on December 6.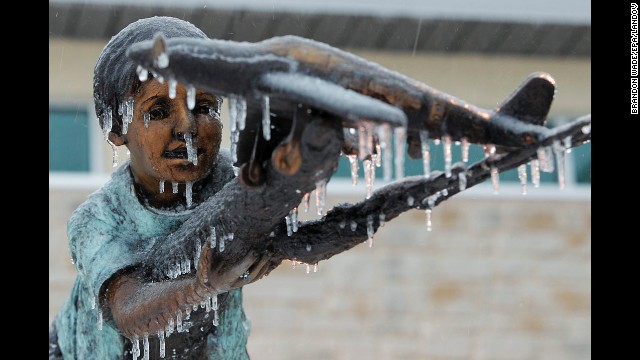 A bronze statue is covered in ice December 6 at Grand Prairie Municipal Airport in Grand Prairie, Texas.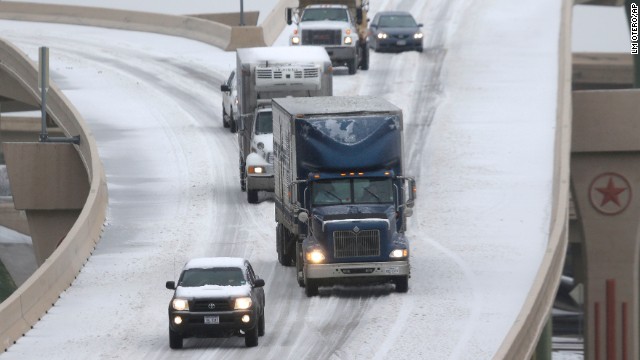 Traffic moves slowly along an ice-covered highway in Dallas on December 6.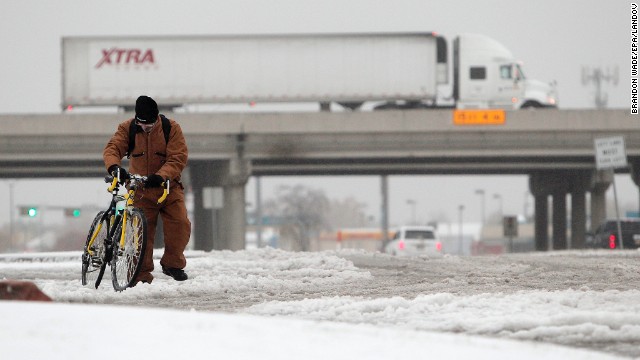 Jeff Chupp walks his ice-covered bicycle along Great Southwest Parkway in Grand Prairie on December 6.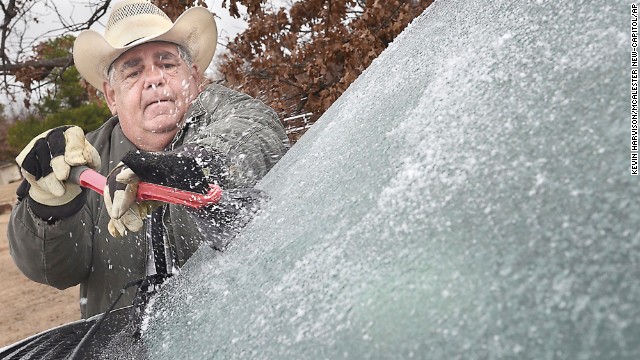 Stephen LeFlore scrapes ice from his windshield in McAlester, Oklahoma, on Thursday, December 5.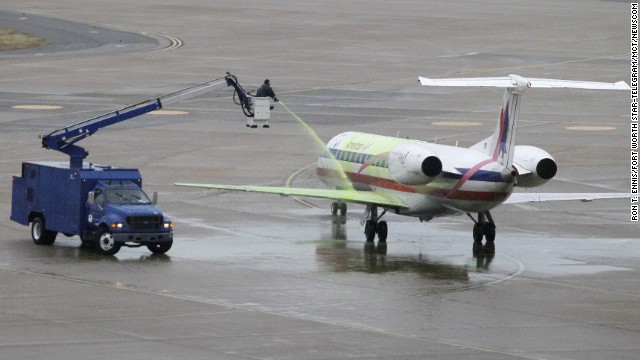 An American Eagle jet is sprayed with de-icing compound on a runway at Dallas-Fort Worth International Airport on December 5.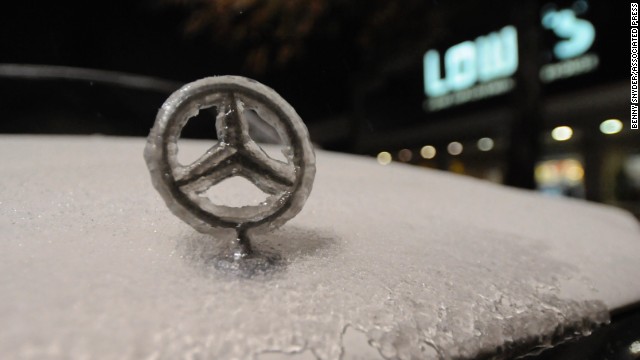 Ice collects on a car parked outside a Lowe's home improvement store on December 5, in Plano, Texas.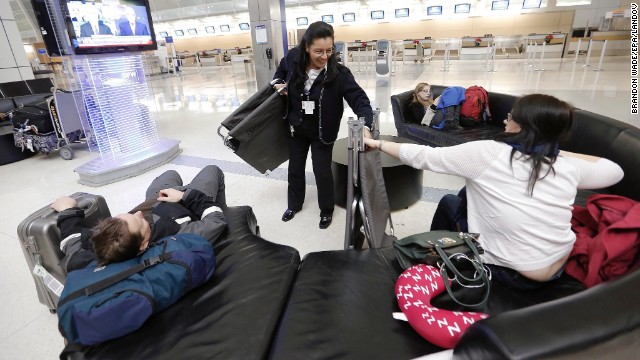 An American Airlines employee hands out cots to stranded airline passengers at Dallas-Fort Worth International Airport on December 5.
Parts of the East Coast from Virginia to New York could get a quarter inch of ice
More than 3,700 flights have been canceled Sunday and Monday
"The apocalypse has started," one Texan says
At least 7 people have died in storm-related incidents, mostly traffic crashes
(CNN) — As Texas begins to thaw from its bizarre deep freeze, East Coast states more accustomed to ice could see a lot of it Monday.
"The greatest area of concern is in central Virginia to southeast New York, where freezing rain is possible," the National Weather Service said. Some parts may see up to a quarter of an inch of ice before temperatures rise late Monday morning and the storm system leaves.
And across the country, stranded travelers are now living at airports as the nasty wintry weather has canceled thousands of flights.
A city inside an airport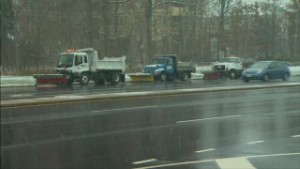 East Coast braces for winter storm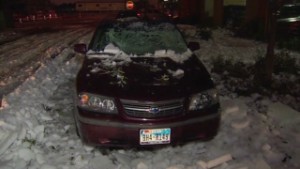 Falling ice crushes cars in Texas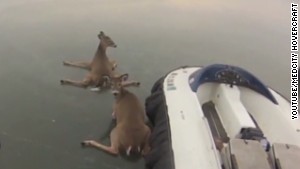 Deer hitch ride on hovercraft
More than 2,600 flights were canceled Sunday, and another 1,000 were nixed for Monday, according to the website Flightaware.com, which tracks both mechanical and weather cancellations.
Canadian James Archibald has lived at Dallas/Fort Worth International Airport for four days. More than 1,100 flights to or from the airport were canceled over the weekend, and more than 700 more are canceled for Monday.
"I just don't understand why they can't get the ice off the runway. You know, I'm from Canada. We get 4 to 5 feet of snow on the runway. Plows go by," Archibald said. "I know it's for our own safety, but its getting a bit silly."
Airport workers provided food to stranded travelers and even brought in jugglers and balloon artists to try to lift spirits.
But that brought little relief to a stranded newlywed couple from Tokyo. Instead of lying on a beach in Mexico, they're spending their honeymoon sleeping on airport chairs in North Texas.
Dangerous conditions
The storm that froze the South has also been deadly. At least seven people have died in storm-related incidents in Texas, Arkansas and New Mexico since Thursday, officials said. Most were involved in traffic crashes.
In Arizona, a Saturday night snowstorm stranded 300 vehicles along Interstate 15. Rigs jackknifed and passenger cars slid into rigs, causing chain-reaction crashes and an enormous backup, Arizona Department of Public Safety Officer Bart Graves said.
Authorities shut the interstate for more than 12 hours to clear the road.
"We had travelers running out of gas. They provided them food, water, and blankets," Graves said.
Some residents in the Dallas suburb of Plano had to deal with an unusual danger: sheets of ice cascading from buildings to the sidewalks and streets.
"The apocalypse has started," one man said shortly before layers of ice fell onto cars.
What's ahead
Temperatures are expected to rise Monday in Texas, which could help move the countless passengers trying to get through DFW airport.
But large swaths of the West and northern Plains will struggle to rise above 20 degrees Monday and Tuesday, the National Weather Service said.
And while the Gulf Coast and Southeast will be spared the frigid temperatures and ice Monday, many areas will get pummeled with heavy rain.
All this with 12 days left to go until the official start of winter.
CNN's Dave Alsup and Emily Minner contributed to this report.

Top Stories – Google News