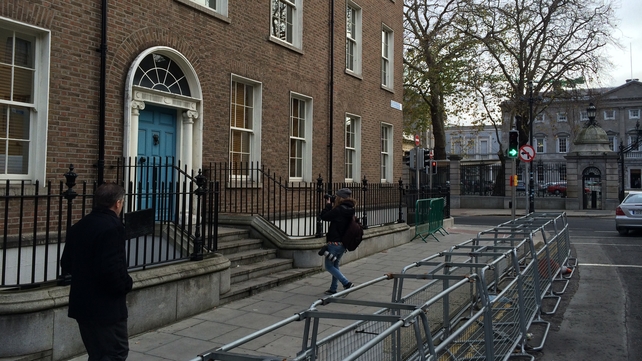 The man's body was discovered on Molesworth Street, less than 50 metres from Leinster House
A homeless man has been found dead on Molesworth Street in Dublin.
The man's body was discovered less than 50 metres from Leinster House at around 8.30am.
Gardaí said they are investigating the man's death.
Director of Advocacy at Focus Ireland Mike Allen said it is a terrible tragedy that someone should die in these circumstances while living on the street.
"The reasons why people end up sleeping homeless are complex and mental health issues and addiction issues, as well as housing problems, play a part," he said.
"Focus Ireland and the Peter McVerry Trust last month started a housing first programme in Dublin and over the next three years they will be working to provide homes for all people who sleeping rough.
"Rent supplement and rent freezing wouldn't make a difference to this man, but the Government's failure to move on them means the entire homeless sector under enormous pressure."
Speaking on RTÉ News at One, Sister Stanislaus Kennedy of Focus Ireland, said it was an awful tragedy that someone would die in such terrible circumstances and so publicly.
"I think what it says to us that this man like so many others who are sleeping out are a sign of the failure of the state … of the failure of the State in the past and in the present to offer them the support they needed to live independently."
Sr Kennedy said many people sleeping rough needed specific supports and help and enough is not being done to help them.
"The answer was not more emergency accommodation but providing more homes.
"The answer is making sure that people who are leaving the care of the State, whether that be in hospital or childcare or prisons, that they're not discharged into homelessness", she said. 

RTÉ News – News Headlines