Friday 21 February 2014 06.53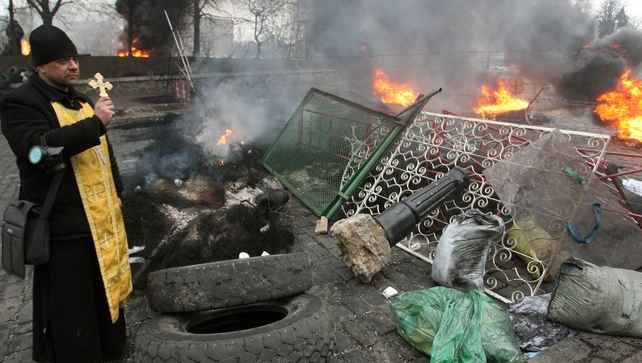 A priest prays at a barricade in Kiev's Independence Square (EPA)
An agreement on resolving the crisis in Ukraine was reached at all-night talks involving President Viktor Yanukovych, the opposition and three European Union ministers, the presidential press service said on Friday.
It said in a statement that the deal would be signed at 10am GMT but gave no details.
The opposition and EU ministers did not immediately confirm agreement had been reached and diplomatic sources said the talks had been "very difficult."
The ministers, from Germany, France and Poland, have been brokering talks for a number of hours.             
"The negotiations are very difficult and went on all through the night," the source said.      
Ukraine's Health Ministry says 75 people have died and over 570 have been injured in violent clashes in the capital Kiev this week.
It comes after a series of running battles between anti-government protesters and police on the city's streets again yesterday.
Last night European Union foreign ministers agreed to impose sanctions on those responsible for the violence, including travel bans and the freezing of assets.
US Vice President Joe Biden told President Yanukovych in a phone call on Thursday the United States was prepared to sanction officials responsible for violence against civilian protesters.     
"He called upon President Yanukovych to immediately pull back all security forces – police, snipers, military and paramilitary units, and irregular forces," the White House said.     
US lawmakers are planning legislation to reinforce any administration action, Senate Foreign Relations Committee Chairman Robert Menendez said in a statement late on Thursday.                                 
Petrol Bombs             
Earlier in the day, riot police were captured on video shooting from a rooftop at demonstrators in the central plaza, known as the Maidan.
Protesters hurled petrol bombs and paving stones to drive the security forces off a corner of the square the police had captured in battles that began two days earlier.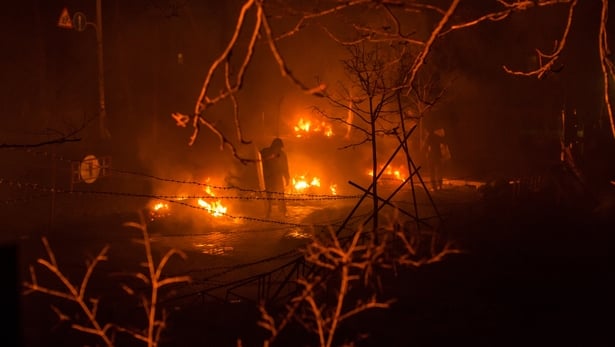 77 people have been killed since Tuesday afternoon, which means at least 47 died in Thursday's clashes.
That was by far the worst violence since Ukraine emerged from the crumbling Soviet Union 22 years ago.             
The trio of visiting foreign ministers met President Yanukovych and the opposition after EU colleagues in Brussels imposed targeted sanctions on Ukraine and threatened more if the authorities failed to restore calm.                    
In further diplomatic efforts, US President Barack Obama spoke to German Chancellor Angela Merkel, who in turn discussed Ukraine with Russian President Vladimir Putin.
Mr Putin "stressed the critical importance of an immediate end to bloodshed, the need to take urgent measures to stabilise the situation and suppress extremist and terrorist attacks" the Kremlin said – sharing Mr Yanukovych's view that he faces a coup. 
Earlier this month, bugged and leaked diplomatic phone calls exposed EU-US disagreement on Ukraine.             
The EU plan "offers a chance to bring an end to violence," Polish Prime Minister Donald Tusk said in Warsaw, adding Mr Yanukovych was willing to hold rapid elections to parliament and the presidency – the latter something Mr Yanukovych has so far appeared reluctant to consider, a year before his term ends.
Fallen Comrades             
In Kiev, demonstrators on Independence Square held a vigil after dark for fallen comrades, lit by mobile phone screens held aloft.             
Medics carried bodies on stretchers through lines of protesters who chanted, "Heroes, heroes" to the dead.             
Although armed militants on the barricades tend to be from the far-right fringe, the opposition has broad support. But many Ukrainians also fear violence slipping out of control.             
"This is brother fighting brother," said Iryna, a local woman walking to Independence Square to donate syringes for blood transfusions. "We need to realise we're all one people."             
Kiev residents emptied bank machines of cash and stockpiled groceries, with many staying off the streets.             
In a sign of faltering support for President Yanukovych, his hand-picked head of Kiev's city administration quit the ruling party in protest at bloodshed.                            
But core loyalists were still talking tough.             
Interior Minister Vitaly Zakharchenko, wearing camouflage as he made a televised statement, said police had been issued combat weapons and would use them "in accordance with the law" to defend themselves – or to free 67 of their colleagues his ministry said were being held captive.
TOP STORIES

RTÉ News – News Headlines