Updated: Sunday, 23 Feb 2014 11:44 | Comments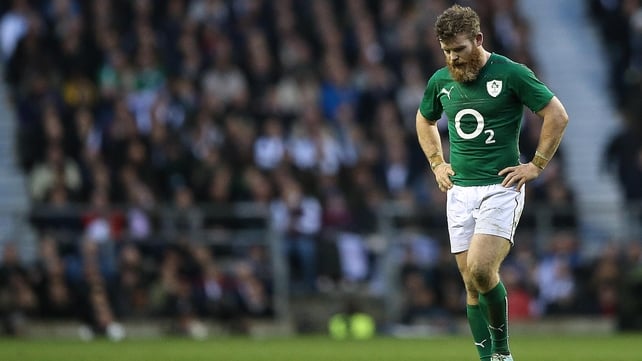 Gordon D'Arcy stressed the need to look forward to Ireland's next games
Video
Audio
Gordon D'Arcy has suggested that some Ireland players may not get many more opportunities to achieve a Grand Slam, after Saturday's agonising 13-10 defeat to England.
D'Arcy centre partner Brian O'Driscoll's final Twickenham appearance passed without the 35-year-old surpassing Mike Gibson's Irish record of eight personal victories over England.
Saturday's defeat means the Leinster stalwart will retire in the summer without adding another Grand Slam to his trophy haul.
D'Arcy said O'Driscoll is not the only experienced Ireland star running out of chances to claim another European clean sweep.
"There's definitely an age profile on the squad and maybe a few guys won't get that many more chances at a win in Twickenham,"he said. "We've done so well in the last 10 to 12 years here, so that just makes this harder.
"So to fall by three points, it's pretty tough."
"The chances of a loss like this derailing the rest of the championship for us; there's no chance of that happening" – Gordon D'Arcy
However, D'Arcy insisted that although Ireland's Triple Crown and Grand Slam dreams had been dashed for this year, their bid for a first Six Nations title in five years was still alive.
"We're a better team than we were eight months ago," said D'Arcy of Ireland's resurgence under new head coach Joe Schmidt.
"And the chances of a loss like this derailing the rest of the championship for us; there's no chance of that happening.
"With Joe driving that, and Paul [O'Connell], Brian [O'Driscoll], Johnny [Sexton], Jamie [Heaslip] and those guys, they are going to be getting everybody back together.
"We can't change the result but we look at the positives, fix the mistakes and we move forward."
D'Arcy stressed the need to look forward to Ireland's forthcoming clashes with Italy and France.
"We focus for Italy and France, then we refocus for Italy, and then we go from there.," he said. "The whole tournament can be a bit of a game within a game, there's the Triple Crown but also the championship.
"We've lost one but we're still in the hunt for the other […] We've got to pick ourselves up after a pretty tough loss, then just refocus on Wednesday and Thursday when we meet up."
Stuart Lancaster's men can lift the Triple Crown if they see off Wales in round four, and the title is a now a four-way fight between England, Wales, Ireland and France.
D'Arcy admitted frustrations at Ireland producing plenty of attacking rugby without enough end product.
"We gave them three kickable penalties and that was probably the difference," he said. "They were pretty dangerous in broken field and capitalised on a good offload, and maybe a slip at the back of the field.
"But the discipline around the kickable penalties, that's the difference.
"We played pretty positive rugby, we definitely played the more attacking rugby and when you don't get the results from that it can be pretty frustrating."
User contributions and/or comments do not, unless specifically stated, represent the views of RTÉ.ie or RT&Eacute.
Click here for Terms of use

RTÉ Sport sport headlines