Updated: Wednesday, 26 Mar 2014 12:04 | Comments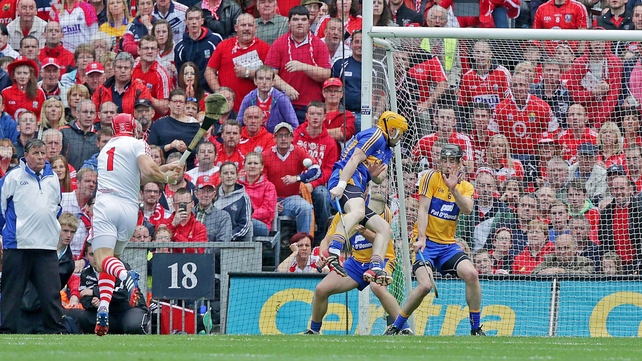 Anthony Nash takes a free during last year's All-Ireland series
Donal Óg Cusack has described the current situation surrounding 20-metre free in hurling as a glaring anomaly in the rules and called on the GAA to ignore 'vested interests' when addressing the issue.
The free-taking technique of Anthony Nash became a major point of debate at the end of last year's All-Ireland Championship. The current goalkeeper blasted three 20-metres frees from close range, turning two into goals while one was saved.
Cusack, himself a former Cork goalkeeper and three-time All-Ireland winner, has said that while Nash's technique is worthy of the greatest respect, the player safety situation in the rules must be addressed.
Speaking to RTÉ Sport's League Sunday Extra, Cusack said: "I think the first thing that should be said about the Anthony Nash free is that it's a fantastic skill. The man has mastered what is a very difficult thing to do and it lit up the Championship, which was one of the best in recent years."
"The usual suspects have been acting under the cover of the GAA to play out small-town politics" – Donal Óg Cusack
But Cusack, who was on a committee which drafted a rule change that was to be voted on at Congress in February only for the motion to be withdrawn days beforehand, believes that the safety of defenders and goalkeepers should be the main concern when the GAA considers the situation future.
He said: "There is a glaring anomaly within the rules. The rules state that there needs to be 20 metres between the striker and the goalkeeper. When the Association looks at this they need to think of the defenders and the goalkeeper. It is not necessarily (about) Anthony Nash being the striker, it could be any striker."
Supporters of the current situation have pointed to online footage of Christy Ring, DJ Carey and others performing the same technique as Nash in previous eras as evidence that the skill is an integral part of hurling.
But Cusack is insistent that opposition to the rule must be faced down because of player safety and has called on the GAA to ignore what he described as 'vested interests'.
He said: "Realistically, what you have seen over the last number of months is a form of clientele politics at play where the usual suspects (have been) acting under the cover of the GAA to play out small-town politics.
These people will be the first to run for cover if we see a player getting hurt, not alone at intercounty level but at juvenile or club level."
User contributions and/or comments do not, unless specifically stated, represent the views of RTÉ.ie or RT&Eacute.
Click here for Terms of use

RTÉ Sport sport headlines