Tuesday 25 February 2014 11.00
1 of 2
CRH says it believes 2013 represents the 'trough' in its profits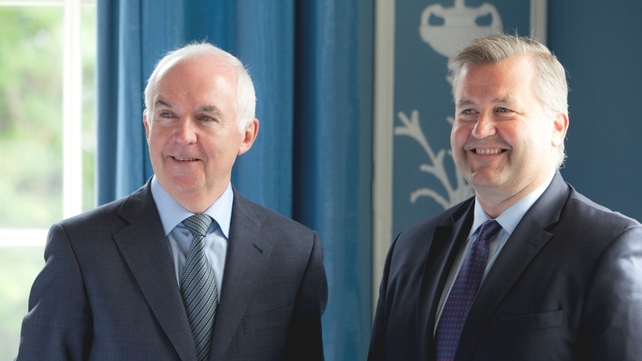 CRH's former CEO Myles Lee and its new chief Albert Manifold
Building materials group CRH has announced flat revenues and a pre-tax loss for last year as the bad weather during the first half of the year delayed the start of the construction season in its main markets.
But the company said that it believes that 2013 represents the "trough" in its profits, and that 2014 will be a year of profit growth.
CRH reported pre-tax losses of €215m for the year to the end of December compared to a pre-tax profit of €646m in 2012.
Revenues for the year eased to €18.031 billion from €18.084 billion. The company reported a 6% revenue decline in the first half of the year followed by a 2% increase in the second half.
Operating profits for the year fell by 10% to €750m from €833m and CRH said that cost savings of €195m were delivered, in line with its previous guidance.
The CRH board is recommending a final dividend of 44 cent per share, in line with 2012. This gives a total dividend for the year of 62.5 cent, which is unchanged from 2012.
Shares in the company jumped over 4% in Dublin trade this morning.
CRH's new chief executive Albert Manifold said that the review of the company's portfolio announced last year aims to reset the group for growth.
Mr Manifold took over the company last month following the retirement of Myles Lee.
The company, which has generated €2 billion from asset disposals since 2007 along with hundreds of millions of euros spent each year on bolt-on acquisitions, said in November it would undertake a review of its businesses to pinpoint further sales.
              
In today's results statement, it said it had identified 45 business units for disposal, accounting for 3% of last year's EBITDA, and that it had taken a non-cash impairment charge of €755m, mostly relating to Europe, ahead of their sale.
              
It added that a further group of businesses, representing 20% of net assets, required more detailed assessment but that it did not anticipate further impairment charges to arise should a decision be made to exit any of these businesses.
              
"While this has resulted in significant non-cash impairment charges, we believe that dynamic allocation and reallocation of resources to optimise the portfolio will be key to driving growth and to rebuilding returns and margins over the coming years," Mr Manifold said.
He also said that the company is "encouraged" by second half activity levels in 2013 and by the fact that, while it is still early in the season, trading so far in 2014 has been ahead of last year.
Breakdown of CRH's different divisions
Sales revenue at CRH's Europe Materials division fell  by 5% to €2.266 billion while operating profits, after impairment charges, slumped by 82% to €39m from €217m.
It said that like for like sales decreased by 8%, which reflected weak volumes in Poland and Benelux, combined with further – albeit more modest – falls in construction activity in Ireland.
At its Europe Products' division, sales revenue fell by 3% to €2.376 billion with construction activity in the Netherlands, Belgium, Germany, the UK and France severely impacted by the prolonged winter conditions in the early months of last year.  It noted that the UK was the only major market showing growth, due to strong residential markets.
Operating profits at its Europe Distribution division fell by 27% to €106m while sales revenue eased by 1% to €3.936 billion, with the division also hit by the severe weather conditions in the first half of the year. 
CRH said that sales revenues at its Americas' Materials division fell by 3% to €4.721 billion while operating profits fell by 19% to €226m. It said adverse weather conditions, which had resulted in a 25% decline in first half EBITDA, continued to impact operations in July and the early weeks of August.
Sales revenues at its Americas Products division rose by 9% to €3.068 billion, as a recovery in the US housing market and an on-going improvement in overall economic activity boosted the company. However, operating profits for the year fell 21% to €68m.
Operating profits at its Americas Distribution sector rose by 14% to €67m while sales revenue for the year increased by 6% to €1.664 billion.
TOP STORIES

RTÉ News – Business Headlines