Thursday 13 February 2014 07.46
1 of 3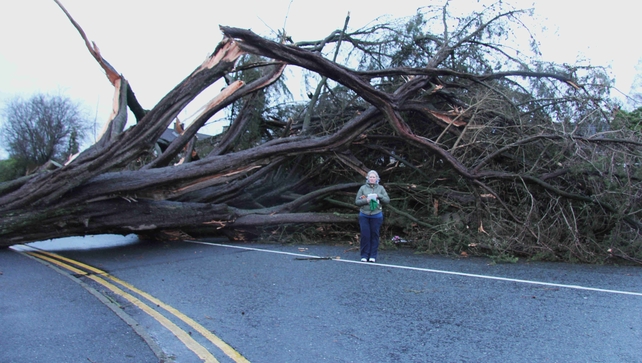 A tree across a road in Portlaoise (Pic: Tim Keane)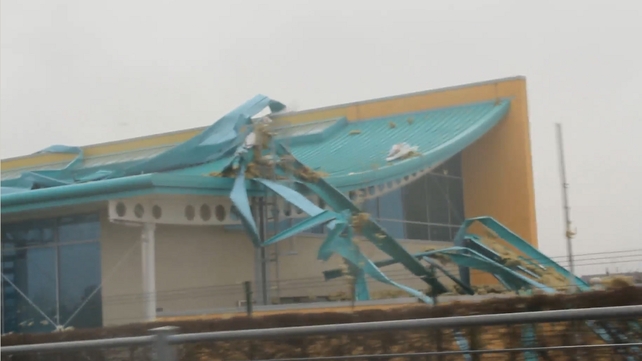 A swimming pool roof was damaged in New Ross (Pic: Mark Maher)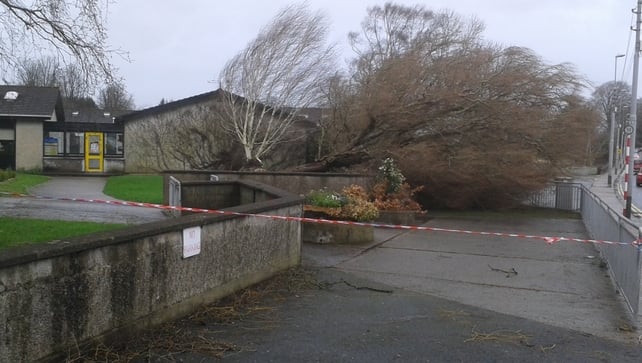 Damage at Scoil Íde in Corbally (Pic: Niall South)
The extent of the damage caused by yesterday's storm is expected to become clearer later this morning.
Winds with gusts of up to 170km/h damaged buildings and tore down trees, while road, rail, ferry and air travel were disrupted.
Irish Rail said no trains are operating on the Tralee to Mallow line or the Limerick to Athenry route as a result of storm damage.
Bus transfers are in place.
Fallen trees and debris are causing treacherous conditions on some roads, particularly in counties Limerick, Kerry, Clare, Laois and Kilkenny, where roads are also icy.
In Co Sligo, a truck overturned on black ice on the Drumkerin to Dowran road at 5am.
University Hospital Limerick has said it is attempting to clear as many beds as possible to cope with an increased demand for services.
Elective surgery has been cancelled for today.
Emergencies were declared in several counties yesterday and ESB crews are still working to deal with more than 4,000 network faults.
About 190,000 customers are still without power this morning.
Nearly 260,000 people were without power at the height of the storm.
Eircom reported more than 10,000 communications faults.
The National Coordination Group, which is monitoring events around the country, met last night and is to meet again today to discuss the aftermath of the storm.
The National Director for Fire and Emergency Management, Sean Hogan, who will be attending the meeting, said there has been damage across a whole range of sectors.
He said particular concerns are electricity and transport.
Speaking on RTÉ's Morning Ireland, Mr Hogan appealed to motorists to take care on the roads.
He said: "Our key message today to people is to be careful this morning. There's reports of ice and snow this morning as well as all the trees and the debris down on the roads and indeed many roads are still closed.
"Now, hopefully they'll get cleared as daylight comes as people get back working this morning to clear the roads.
"Our message to people is to give themselves lots of time, take it easy on the roads out there because you will be encountering debris and trees around corners so take it easy out there."
Meanwhile, Met Éireann has issued a nationwide status yellow snow-ice warning, which came into effect at midnight and is valid until 6pm.
Gardaí have asked people to call on elderly neighbours or those living alone to check on their welfare.
Gallery: Weather Watch
Send your weather images to yourphotos@rte.ie or via Twitter @rtenews
TOP STORIES

RTÉ News – News Headlines