Thursday 10 July 2014 12.46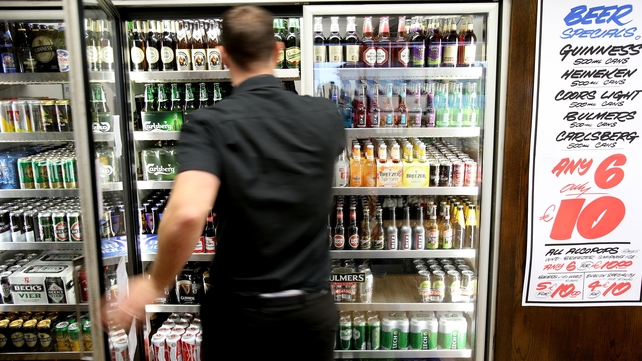 Alcoholic beverages and tobacco prices increased by 4.1% in the year to June
New figures from the Central Statistics Office show that consumer prices rose by 0.4% in June compared to the same time last year.
The increase came on the back of higher health and motor insurance premiums and more expensive prices for food and drinks in hotels and restaurants.
On a monthly basis, consumer prices in June rose by 0.1% from May, the CSO said.
Today's figures show that prices in the education sector rose by 4.5% in the year to June, while alcoholic beverages and tobacco increased by 4.1% and prices in restaurants and hotels went up by 2.2%. 
The prices of miscellaneous goods and services rose by 3.9% due to higher prices for insurance premiums and the increased costs associated with the local property tax.
These increases were partially offset by falls in the prices of communications, which declined by 4.7%. Clothing and footwear prices fell by 3.4% due to sales in the shops. 
There were also decreases in the costs of furniture and household textiles and some food stuffs including vegetables, meat, bread and cereals in June compared to the same time last year. 
The CSO said that on a monthly basis transport costs rose by 1.7% due to higher petrol prices and airfares. Alcoholic beverages and tobacco increased by 0.8% while prices in hotels and restaurants edged 0.5% higher on the back of more expensive accommodation services. But clothing and footwear prices fell by 2.6% because of summer sales, while some food prices edged 0.4% lower.
Commenting on today's figures, ISME called on the Government to reduce "state-influenced business costs", which continue to affect the country's international competitiveness. 
ISME reiterated its warning on premature and unsustainable union calls for wage increases, as SMEs continue to struggle with high costs and low consumer demand. 
Meanwhile, Merrion economist Alan McQuaid said that domestic inflationary pressures in Ireland are likely to remain depressed for some time to come. However, he said he does expect a "modest uptick" later in the year, with a strengthening labour market likely prompting a gradual rise in wages.  
The economist said it still looks like disinflation or deflation rather than inflation is the bigger threat to the economy at this juncture, and it is not just in Ireland. 
He pointed out that euro zone inflation currently stands at just 0.5% – way below the ECB's target of close to 2%.
The Irish annual inflation rate had dropped to -0.1% in February, sparking fears of a damaging period of falling prices. 
Deflation encourages the belief that prices will fall further, prompting consumers to delay purchases, thereby dampening activity and employment demand.
TOP STORIES

RTÉ News – Business Headlines