Updated: Sunday, 15 Dec 2013 16:07 | Comments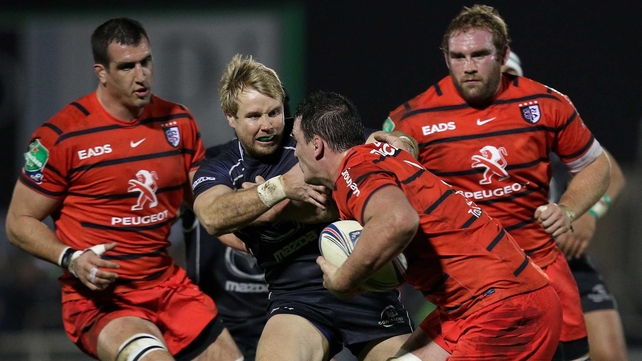 Connacht's preparations were disrupted by a flu bug
Connacht head coach Pat Lam spoke of his pride in his players after they came through a difficult week of fighting of the flu, despite losing 37-9 to Toulouse at the Sportsground.
Lam's preparations for Saturday's Heineken Cup clash had been disrupted by a flu outbreak, affecting 12 members of the squad.
Speaking after the game, Lam said: "No doubt Toulouse are a good side, but I am so proud of my team. Their heart was probably more than last weekend after the week they have had.
"We had Kieran Marmion on a drip 48 hours ago in hospital and then (fellow scrum-half) Frank Murphy going down, so then we put Paul O'Donoghue back and then he went down too, so we had no half-back.
"We had to see how far Kieran could go. To get 80 minutes from Kieran after that was unbelievable. Dave McSharry we only saw today, was unbelievable. Right throughout the team the heart was unbelievable."
However, Lam said Connacht had lost shape and their system at times. "Today we're disappointed we lost that and we gave away points that left us chasing the game against a pretty massive team.
"When you see them (the Toulouse players), they are about 5kgs bigger than others, but the boys kept putting their bodies on the line.
"I am an extremely proud coach. Even with two minutes to go the crowd kept the boys going and they kept trying, so what I asked was for them to do was front up heart-wise and commitment-wise, and it was even better than last week."
Toulouse captain Thierry Dusautoir said his side played with a different spirit at the Sportsground than they did in last week's shock home defeat to Connacht.
Dusautoir led the French giants to the bonus-point victory in Galway, as Lionel Beauxis kicked 12 points and Maxime Medard (2), Christopher Tolofua, man of the match Louis Picamoles and young replacement Gael Fickou all ran in tries.
Connacht fell 22-9 behind during the first half with out-half Dan Parks' two drop goals and a penalty being their only points of the night.
Dusautoir said: "First of all, it was not easy to bounce back and win here. We played with a different spirit and we were more clinical with a better strategy.
"We took the bonus point, which was very important for us, but it shows how bad we were last week.
"When we are playing at this level we respect our jersey and our club, and last week was not the same team on the field. Tonight I am very proud of the guys."
Dusautoir, however, said last weekend's first defeat at home this season to the Cinderella of Irish rugby still rankled.
He continued: "I am still disappointed how we did last week.
"Tonight we respected the Connacht team and we have been rewarded. When you play rugby you have to respect the team. Even if it is a supposedly a small team.
"You talk to me about the budget last week, it's not the point of rugby. You have to respect the guys and play with spirit – tonight it was present and we won the game."
The bonus-point triumph sees Toulouse still level-pegging in Pool Three with Saracens, who demolished Zebre 64-3, setting up a likely winner-takes-all match between the two next month.
Flanker Dusautoir added: "Now we can only think about getting out of the pool.
"If we had won last week, maybe we would think differently, but now we just have to think about playing in the quarter-final and we have to win against Saracens.
"You can see on my jersey, we have won the title four times, so you can see how important it is for us.
"We don't put a priority on one competition or the other, we just play at our maximum level and try to win everything.
"I hope next year we have a European competition, it is very important for all the players and for rugby."
User contributions and/or comments do not, unless specifically stated, represent the views of RTÉ.ie or RT&Eacute.
Click here for Terms of use

RTÉ Sport sport headlines