Wednesday 09 April 2014 14.53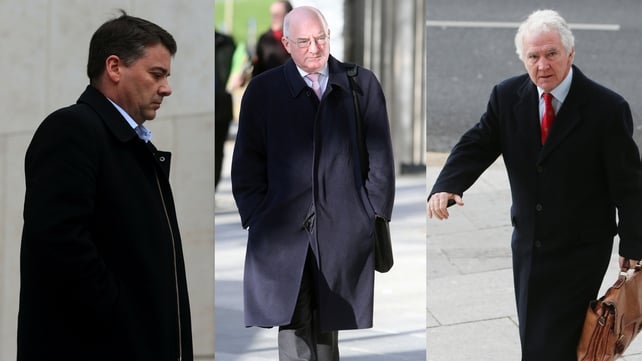 Pat Whelan (L), Willie McAteer (C) and Sean FitzPatrick (R)
The jury in the Anglo trial has been told it is legally irrelevant whether or not the financial regulator knew or approved of the lending at the centre of criminal charges in the trial.
Closing arguments are under way in the trial of three former Anglo executives accused of giving illegal loans to buy bank shares.
Senior Counsel Paul O'Higgins for the prosecution is addressing the jury first this afternoon.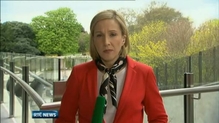 RELATED AUDIO & VIDEO
Mr O'Higgins said the key questions for the jury to consider would be whether or not there was lending, was that lending not in the ordinary course of business and if it was not did any or each of the accused authorise or permit it.
He said they would also have to consider if they took any reasonable steps to prevent it.
Mr O'Higgins said it was irrelevant whether or not the regulator knew, approved or was comfortable with the loans.
It was also irrelevant whether or not others should or could have been prosecuted, he said.
The legal advice received by the accused on the lending was also irrelevant, he said.
William McAteer and Pat Whelan face 16 charges each of giving illegal loans to people to buy shares in the bank, contrary to the Companies Act.
Sean FitzPatrick, the former chairman, is charged in connection with ten of those loans.
A number of charges have been dropped against Mr FitzPatrick relating to loans to the Quinn family after the judge directed the jury to return not guilty verdicts on the six charges.
He also ordered the jury to return not guilty verdicts on seven charges against Mr Whelan relating to the alteration of loan documents.
The closing arguments are under way and are expected to continue tomorrow.
Mr Whelan, 51, of Malahide, Dublin, Mr McAteer, 63, of Rathgar, Dublin and Mr FitzPatrick, 65, of Greystones, Co Wicklow deny the charges against them.
TOP STORIES

RTÉ News – News Headlines