Updated: Tuesday, 26 Nov 2013 11:12 | Comments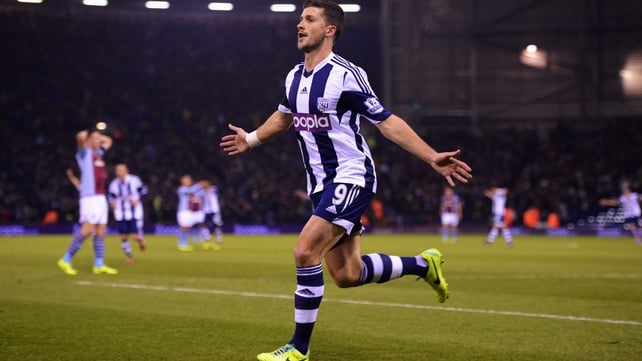 Shane Long scored twice but Aston Villa left the Hawthorns with a point
Audio
West Brom boss Steve Clarke insists he wants Shane Long to sign a new deal with the club. 
The Republic of Ireland striker, who almost moved to Hull during the last transfer window, scored two stunning goals during their 2-2 draw with Aston Villa on Monday night.
Clarke said: "Shane has been working hard for that type of performance. He's in a good moment.
"Shane has been on a good run of form and hopefully he can keep it going.
"Shane's performance at Chelsea was one everyone spoke about.
"He got another goal for the Republic and he showed tonight that when he's on his game he's a player to be reckoned with.
"That first goal was a difficult goal to take. He showed great control and finished it with his weaker foot, not that you'd notice. And he showed great anticipation with the second goal. It's just a shame we couldn't get the three points.
Long, 26, is out of contract next summer and was almost sold to Hull during the last transfer window, a deal that fell through at the last minute.
Clarke added: "I've said all along Shane has a big future for us. We will sit down and I'm sure the talk will try to sort that one out."
"Nine times out of ten that touch won't come off like that for me"
Speaking about his first goal, which Sky Sports analyst Jamie Carragher compared to Dennis Bergkamp's goal for Holland in the 2006 World Cup against Argentina, Long said: "I like running in behind defenders and sometimes the ball comes over your shoulder like that.
"Nine times out of ten that touch won't come off like that for me. I surprised myself but it's nice to get it down, get it settled, and finish it left footed. 
"Hopefully, I can keep playing well from now until the end of the season. You get into those positions so you need to make sure you can capitalise on them."
User contributions and/or comments do not, unless specifically stated, represent the views of RTÉ.ie or RT&Eacute.
Click here for Terms of use

RTÉ Sport sport headlines