Sunday 16 March 2014 19.01
1 of 3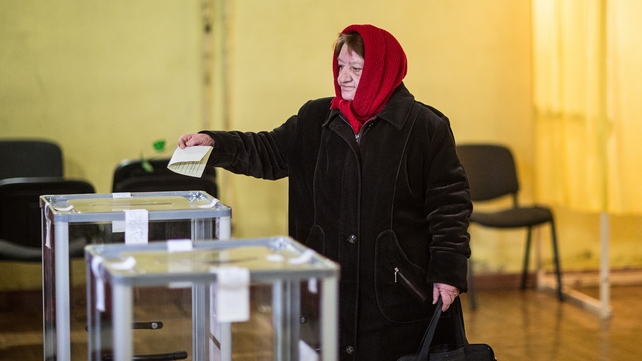 A woman casts her ballot in a polling station in Simferopol (Pic: EPA)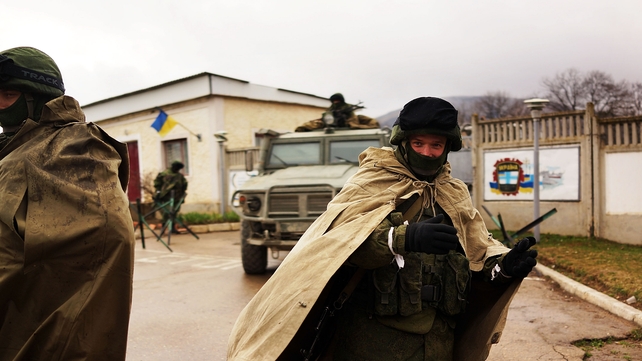 Armed soldiers without identifying insignia keep guard outside a Ukrainian military base in the town of Perevevalne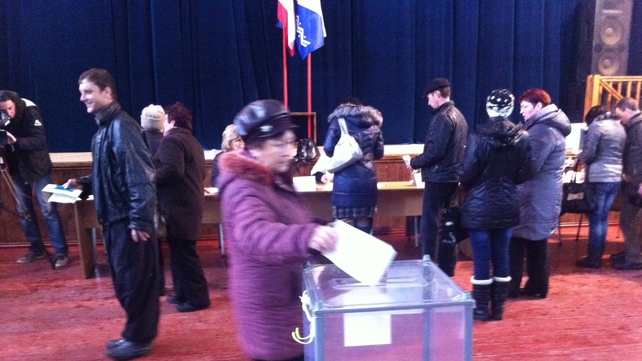 The validity of the poll has been questioned by the West
About 93% of voters in Ukraine's Crimea region supported union with Russia, according to reports of an exit poll.              
Polling stations in Crimea closed at 6pm Irish time. Another Russian news agency, Interfax, said voter turnout had exceeded 80%.
The exit poll cited by RIA was conducted by the Crimea nInstitute of Political and Social Research.
The US has rejected the vote in Crimea and called Russian actions in the crisis "dangerous and destabilising."
"This referendum is contrary to Ukraine's constitution, and the international community will not recognize the results of a poll administered under threats of violence and intimidation from a Russian military intervention that violates international law," White House spokesman Jay Carney said.
The White House said Russia will face 'increasing costs' for military intervention, violation of international law
"We are long past the days' when world would 'stand quietly by while one country forcibly seizes the territory of another", a spokesperson said.
Crimeans voted in a referendum on whether to break away from Ukraine and join Russia, with Kiev accusing Moscow of pouring forces into the peninsula.
Caught in an East-West crisis reminiscent of the Cold War, Kiev said Russia's build-up of forces in the Black Sea region was in "crude violation" of an international treaty, and announced plans to arm and train 20,000 members of a newly-created National Guard to defend the nation.
US Secretary of State John Kerry told Moscow that Washington would not accept the outcome of the vote, which is likely to favour union with Russia for a region which has a Russian-speaking majority.
The White House also warned Moscow to expect sanctions while foreign ministers from the European Union, which has major trade ties with Russia, will decided on possible similar action in Brussels tomorrow.
Russian President Vladimir Putin rejected Western accusations that the referendum was illegal, saying it respected the will of the Crimean people, while his foreign ministry said it had agreed with the United States to seek a solution to the crisis through constitutional reform.
In Kiev, Prime Minister Arseny Yatseniuk threatened dire consequences for the Crimean politicians who had called the vote, saying separatist "ringleaders" wanted to destroy Ukrainian independence "under the cover of Russian troops".
"We will find all of them – if it takes one year, two years- and bring them to justice and try them in Ukrainian andinternational courts. The ground will burn under their feet," he told a cabinet meeting.
Mr Yatseniuk had just returned from a US trip where he won expressions of moral support but no offers of weapons.
Kiev's pro-European rulers, who took power after last month's fall of Moscow-backed President Viktor Yanukovych to popular unrest, have been as powerless as Western governments to prevent the referendum or build up of Russian forces on Ukrainian territory.
Ethnic Tatars – Sunni Muslims who make up 12% of Crimea's population – said they would boycott the vote despite promises by the regional authorities to give them financial aid and proper land rights.
Crimea's 1.5 million voters have two options: union with Russia or giving their region, which is controlled by pro-Kremlin politicians, the broad right to determine its own path and choose relations with whom it wants – including Moscow.
Polling stations close at 8 pm. (6pm Irish time), with provisional results to be released late on Sunday and the final tally expected a day or two later.
Russia has the right to keep forces on the Black Sea peninsula, including at its naval base in the port of Sevastopol, under a treaty signed after Ukraine gained independence from the Soviet Union in 1991.
But Ukrainian acting defence minister Ihor Tenyukh accused Moscow of going far beyond an agreed limit on servicemen – which he said was 12,500 for 2014.
This figure had risen from 18,400 on Friday.
Mr Tenyukh later said that the defence ministries in Kiev and Moscow had declared a truce until 21 March during which Russian forces, who have been arriving by boat and helicopter, would leave Ukrainian military facilities untouched.
Many Crimeans hope union with Russia will bring better pay and make them citizens of a country capable of asserting itself on the world stage.
But others see the referendum as a land grab by the Kremlin from Ukraine, whose new rulers want to move the country towards the European Union and away from Russia's sway.
Mr Putin defended the vote in a phone call today with German Chancellor Angela Merkel, saying it complied with international law, including Article 1 of the UN Charter which states the principle of self-determination of peoples. "It was emphasized that Russia will respect the choice of the Crimean people," a Kremlin statement said.
TOP STORIES

RTÉ News – News Headlines