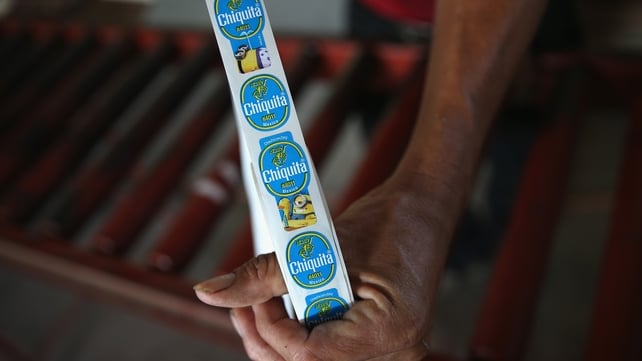 The revised Chiquita-Fyffes deal would make the deal more attractive to shareholders of Chiquita
Banana producer Fyffes has agreed to boost US rival Chiquita's ownership of a proposed merged company, the two companies said in a joint statement today in an apparent attempt to stave off a rival deal. 
Under the revised proposal, approved by both boards, Chiquita's share would increase to 59.6% from 50.7% of the combined company. 
This would be worth just under €976m based on yesterday's closing prices of the two firms. 
Chiquita is also in talks with Brazilian juice maker Grupo Cutrale and Safra Group, the banking and investment group, which have made a rival $ 611m unsolicited bid for Chiquita. 
Fyffes shares moved higher in Dublin trade this afternoon.
"The combination of Chiquita and Fyffes is strategic and compelling, creating the number one banana company globally, with synergies that can only be achieved by these companies coming together," David McCann, Fyffes executive chairman said in today's statement. 
"This revised binding agreement, along with the additional synergies recently announced, reinforces our conviction that the Combination is the value-maximising opportunity for both companies' shareholders," he added.
"We are pleased with the increased value that these enhanced terms for Chiquita bring to our shareholders," Chiquita's chief executive Officer Ed Lonergan said. 
"The Fyffes transaction is a natural strategic partnership that brings together two complementary companies to create a combined company that is better positioned to succeed in a highly competitive marketplace, while driving strong performance and value for shareholders as well as immediate benefits for customers and consumers worldwide," he stated.
The merged company would have a 14% share of the $ 7 billion global banana market, giving it significant clout in negotiating with retailers. 
Chiquita and Fyffes plan to delay shareholder meetings to approve the revised deal until late October, the statement said. 
Chiquita and Fyffes, which compete with Fresh Del Monte and Hawaii-founded Dole Food Company, are on course to secure conditional EU approval for the tie-up, sources told Reuters this week.

RTÉ News – Business Headlines