Saturday 29 March 2014 09.06
1 of 4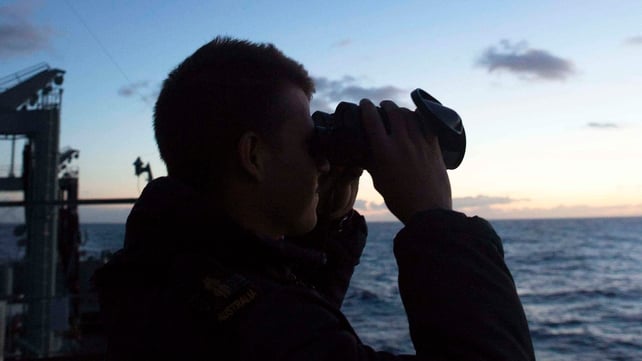 A member of the Royal Australian Navy ship HMAS Success has an early morning lookout in the search for Flight MH370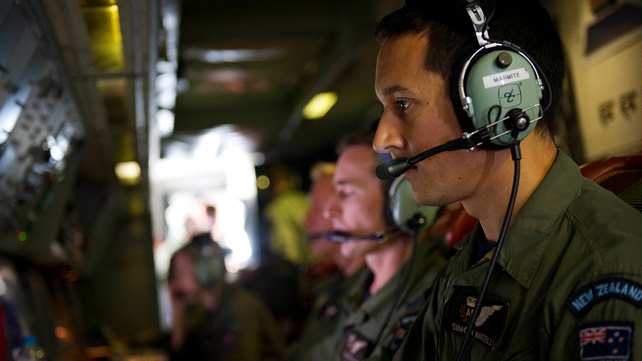 Royal New Zealand Air Force personnel operate a radar and an electro optics camera during a search mission over the southern Indian Ocean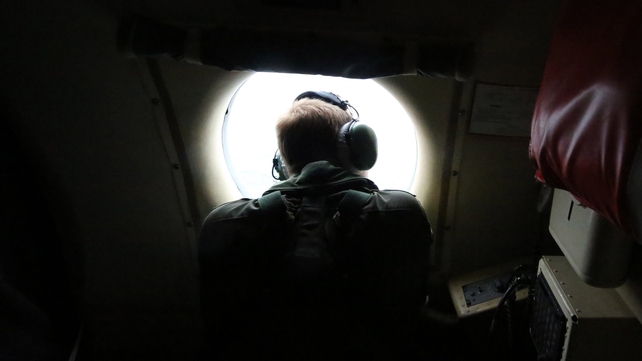 60 aircraft and ships are involved in the search for the missing plane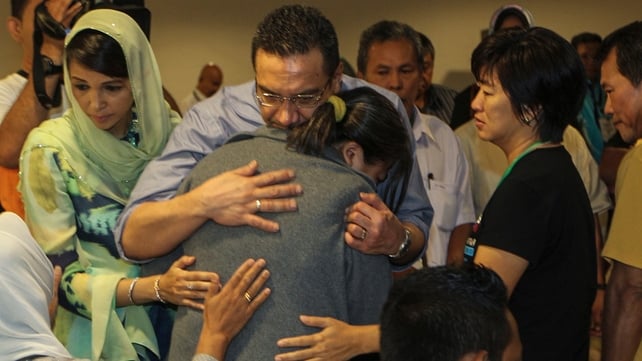 Malaysia's acting Transport Minister Hishamuddin Hussin hugs a family member of a missing passenger
Chinese ships are searching a new area in the Indian Ocean for a missing Malaysian passenger jet.
The search for Flight MH370 entered its fourth week amid a series of false dawns over sightings of debris.
Australian authorities coordinating the operation moved the search 1,100km (685 miles) north yesterday after new analysis of radar and satellite data concluded the Malaysia Airlines plane travelled faster and for a shorter distance after vanishing from civilian radar screens on 8 March.
A Chinese military aircraft spotted three suspicious objects today in the new search area some 1,850 km (1,150 miles) west of Perth.
The objects were coloured white, red and orange respectively, the official Xinhua news agency said.
That sighting follows reports of "multiple objects of various colours" by international flight crews yesterday, according to the Australian Maritime Safety Authority (AMSA).
Some looked like they were from fishing boats and nothing could be confirmed until they were recovered by ships, it added.
"We're hopeful to relocate some of the objects we were seeing yesterday," Royal New Zealand Air Force Squadron Leader Flight Lieutenant Leon Fox told Reuters before flying out to the search zone on an Orion P-3.
"Hopefully some of the ships in the area will be able to start picking it up and give us an indication of what we were seeing."
The Chinese navy vessel Jinggangshan, which carries two helicopters, reached the new search area early today.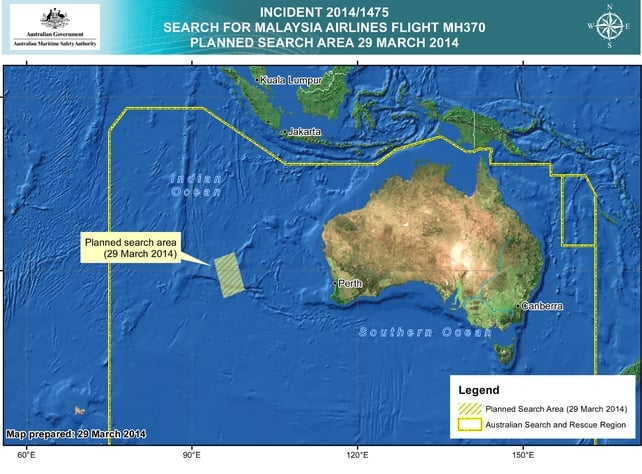 It is expected to focus on searching for plane surfaces, oil slicks and life jackets in a sea area of some 6,900sq.km, state news agency Xinhua reported.
Another four Chinese vessels and one from Australia were on the way but would not arrive until late in the day.
Malaysia says the Boeing 777, which vanished less than an hour into a flight from Kuala Lumpur to Beijing, was likely diverted deliberately.
However, investigators have turned up no apparent motive or other red flags among the 227 passengers or the 12 crew.
US officials close to the investigation said the FBI found nothing illuminating in data it had received from computer equipment used by MH370's pilots, including a home-made flight simulator.
The search has involved more than two dozen countries and 60 aircraft and ships but has been bedevilled by regional rivalries and an apparent reluctance to share potentially crucial information due to security concerns.
Two Malaysian military aircraft, which arrived in Perth today, are expected to join the search party for the first time tomorrow.
TOP STORIES

RTÉ News – News Headlines