Updated: Thursday, 12 Dec 2013 07:38 | Comments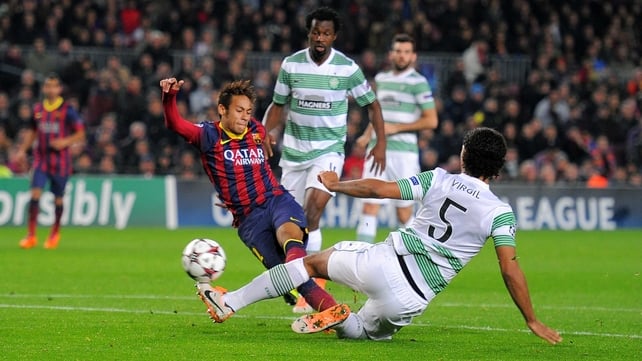 Neymar helped his side put Celtic to the sword
Neil Lennon will analyse his side's shocking performance following Celtic's 6-1 Champions League defeat by Barcelona in the Nou Camp on Wednesday night.
Brazil star Neymar scored a hat-trick as the visitors slumped to their heaviest defeat in Europe since they lost 5-0 away to Artmedia in a Champions League qualifier in 2005.
Celtic finished bottom of Group H with three points from six games and do not even have the safety net of the Europa League to look forward to in the new year.
Barca defender Gerard Pique opened the scoring from close range in the seventh minute before Pedro and Neymar added a second and third before the interval.
Neymar scored his second two minutes after the break before grabbing his hat-trick and substitute Cristian Tello got in on the act in the 71st minute when his drive was heavily deflected past Fraser Forster by Parkhead defender Virgil van Dijk for number six before Georgios Samaras grabbed a late consolation for the Scottish champions.
The Hoops boss said: "We will have to analyse it and look at the character which was there.
"The players didn't do their jobs they were assigned to do.
"Barcelona were fantastic as we expected them to be but we were very poor. I wouldn't say some players gave up but it certainly looked that way at times.
"I wouldn't say some players gave up but it certainly looked that way at times," – Neil Lennon
"I would never accuse a player of doing that but a lot of half-hearted performances and as a manager that was the most disappointing aspect of the whole game.
"There was no bravery on the ball tonight, we started off nervously and it looked like our heads went down at 2-0.
"We were weak and that has not been like us, that is something I have to address going forward. It is a sore one and I am hurting a little bit as are the players."
Barca boss Gerardo Martino declared himself delighted with the quality of the performance.
He said: "Our play is improving all the time and I expect better by the end of the year.
"There is always room for improvement and that is what we are striving for.
"We have a bunch of players playing brilliant football and have been doing so for a long time."
User contributions and/or comments do not, unless specifically stated, represent the views of RTÉ.ie or RT&Eacute.
Click here for Terms of use

RTÉ Sport sport headlines