Saturday 01 February 2014 09.51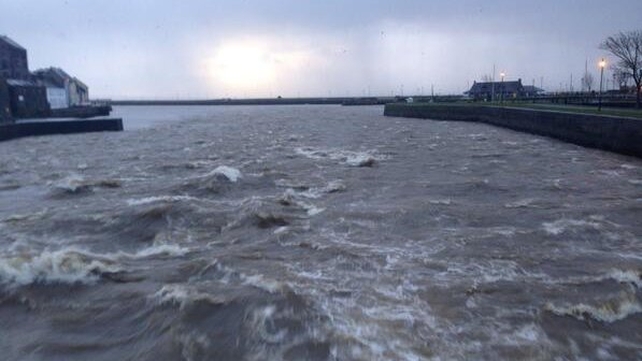 Parts of Galway city were also hit by flooding during Storm Christine
Met Éireann has issued a status orange weather warning for Munster, Leinster, Connacht and parts of Ulster, with winds of up to 130km/h forecast.
Wind gusts of 117km/h have been recorded at Mace Head in Galway. 
ESB Networks said around 5,500 homes and businesses are without powers, including around 4,000 homes in Ennis, Co Clare.
There are also outages in Cork, Limerick, Galway, Mayo and Monaghan.
Crews are working to restore power and ESB said it hopes the situation will be resolved by midday.
High tide and storm force winds have hit the west coast with extensive flooding in parts of Galway city and coastal areas.
Emergency crews are assisting homeowners and businesses in the worst affected areas.
High tide began shortly before 6am and waves as high as 6m cascaded over sea walls.
Flooding is affecting areas around Spanish Arch, Claddagh Quay and along the promenade in Salthill.
A section of the promenade has been closed off since yesterday.
The storm surge is also expected to impact areas around the east of the city including Wellpark where the G Hotel is situated.
Galway City Council has a Flood Emergency Team in place with workers across all departments on call to provide assistance.
Floodgates and sandbags are stacked around homes and businesses in vulnerable areas.
A number of premises were already badly damaged during the recent Storm Christine which battered many parts of the country.
Council officials are urging people to be extremely vigilant on exposed coasts.
Many parts of Tralee in Co Kerry have been flooded including Princes Street, Strand Road and the area around the Brandon Hotel.
Flooding has also been reported in Blennerville, Lohercannon and Ballylongford, while the road between Kenmare and Castletownbeare is impassable.
Motorists have been urged to drive with care in Co Mayo as parts of the main Newport to Castlebar road are flooded, but passable.
In Cork, flooding in the city centre has abated after the River Lee overflowed its banks shortly before high tide at 6.24am. 
County Council emergency crews remain on alert in the county because of the risk of coastal flooding.
A tidal flood alert remains in place until Sunday
Sixteen Aer Lingus flights scheduled for this morning were cancelled due to high winds.
The airline announced the cancellations last night, which include flights from Dublin to Manchester, Madrid, Aberdeen, Glasgow, Paris and Cardiff.
A spokesperson for Aer Lingus said there were no new cancellations this morning, but that the airline would monitor the situation given the conditions are forecast to worsen later today.
TOP STORIES

RTÉ News – News Headlines