Tuesday 11 February 2014 09.20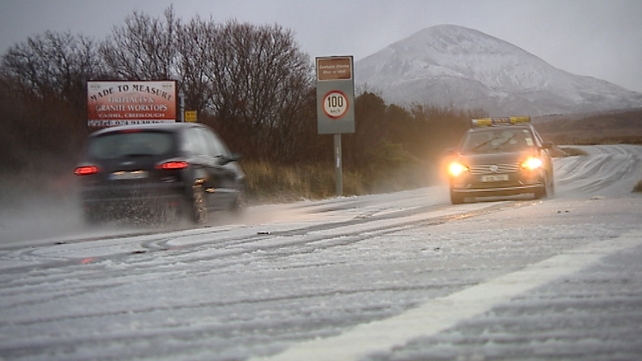 A snow and ice warning is in place for Co Donegal
Met Éireann has warned of strong winds on the south and southwest coasts, while a status orange snow and ice warning remains in place for Co Donegal.
A status orange wind warning is in place for counties Wexford, Galway, Clare, Cork, Kerry, Limerick and Waterford, where Met Éireann says westerly winds will reach mean speeds of 70km/h to 80km/h, with gusts of up to 130km/h.
The warning for Donegal says snow accumulations of 3-6cm are possible.
A yellow alert is in place for Connacht and counties Cavan, Longford, Monaghan and Westmeath.
Cold, wintry weather is expected with occasional heavy hail, sleet and snow showers likely.
Snow accumulations of up to 3cm are possible, especially on higher ground.
Meanwhile, a senior engineer with Clare County Council has said that damaged tourist areas of the county must be repaired without delay.
Tom Tiernan said significant repairs must be made to up to 40 sites across the county.
His comments come after the council stated that the cost of repairing the damage done by recent storms could be €35m.  
"There are a total of 40 sites containing public infrastructure along the coast of Clare, from Galway Bay and up into the Shannon Estuary.
"There are several key locations that are a key component to the tourist industry, which is a cornerstone of the economy of Co Clare.
"Not just Lahinch, but areas like Kilkee, Spanish Point, New Quay, Liscannor and Loop Head peninsula."
Elsewhere, Minister for Public Expenditure Brendan Howlin has said the Government has decided to give €500,000 to the St Vincent De Paul society and a further €500,000 to the Irish Red Cross so that they will have as many vehicles as possible to distribute relief.
He said the next phase will be to get full oversight of the damage to infrastructure around the country.
He said the Government will be getting a report on the damage from the Minister for the Environment today.
TOP STORIES

RTÉ News – News Headlines