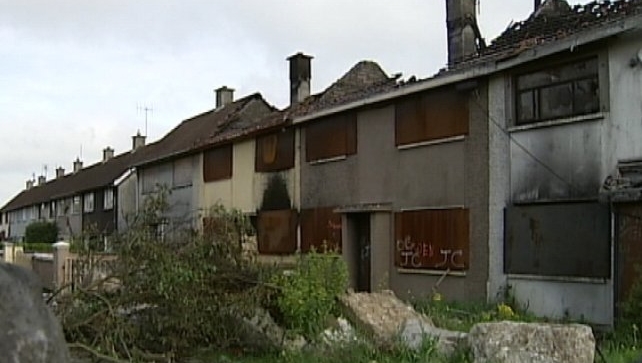 (File image) Hundreds of houses have been demolished in the Moyross area over the past five years
The parish priest of Moyross in Limerick has called on Minister for the Environment Alan Kelly to halt the imminent demolition of a dozen homes in the Limerick suburb.
Fr Tony O'Riordan said they should be refurbished to help address the housing shortage.
The plea to Minister Kelly to stay the planned demolition of the 12 houses in Moyross came this evening, as building workers completed the extraction of fittings to prepare the structures for the wrecking ball.
Fr O'Riordan said the boarded-up houses are located on two sides of a square fronting onto a green and that three families will continue to live in the remaining houses.
He said that over 400 houses have been demolished in Moyross in the past five years, as part of Limerick city's regeneration programme, but that only 11 new homes have been built there.
He said the homes should be refurbished to help address the housing shortage.
Meanwhile, 25 senior citizens will be housed immediately in a newly built social housing complex in Dublin city centre after a row was resolved this evening at a meeting convened by Minister Alan Kelly.
The 25 are some of the original residents of Fr Scully House who have been living elsewhere over the past eight years while the complex was demolished and rebuilt.
They will be housed at existing Dublin City Council rental rates.
Another 75 senior citizens from the housing list will be housed there shortly as some final building issues are resolved. 
The meeting included the building's patron, the Catholic Housing Aid Society, the Archbishop of Dublin Diarmuid Martin as well as Dublin City Council. 

RTÉ News – News Headlines