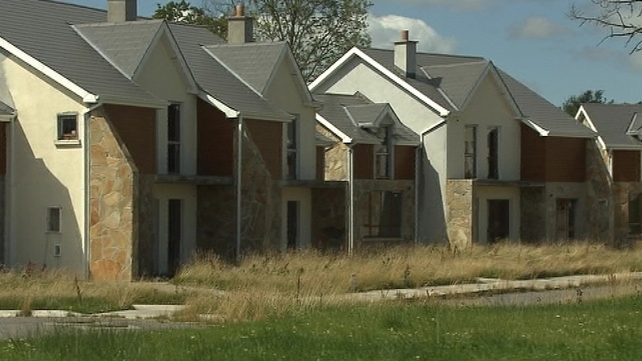 Almost 5,000 exemptions from property tax were claimed because the houses were on unfinished housing estates
The Comptroller and Auditor General's report has recommended that Revenue should examine the validity of exemptions claimed under the unfinished housing estate category for the Local Property Tax.
C&AG said 52,000 properties were declared exempt from the tax for a variety of reasons in 2013.
Exemption claims were made on 42,000 in 2013, while 10,000 other properties were exempted by Revenue from information it held in its records.
The report showed that in almost 5,000 cases exemptions were claimed because the properties were on unfinished housing estates.
But it adds that a review of a random sample of 50 of these exemptions found 40% of the properties where such exemptions were claimed were not in a designated estate.
The report said that two thirds of properties were revalued by homeowners, where estimated valuations were issued. Overall, it said declared values were lower than estimates made by Revenue.
It said that to address the risk of property owners returning values lower than the market value, Revenue should consider using technology, such as mapping tools, to compare valuations with actual sales prices.
Revenue said that it will be using a range of tools to its evaluation of compliance, including comparing returns for a property against those of its nearest neighbours.
The report also recommended that Revenue should consider requiring that information on the basic characteristics of properties, such as the number of bedrooms, be included in people's estimates of valuations of their homes.
But the Accounting Officer in Revenue did not agree with this. 
The officer pointed out that Revenue is considering options to improve the valuation model, such as seeking information from the Sustainable Energy Authority of Ireland, which receives detailed property characteristics through the Building Energy Rating certification process.
By the end of June, Revenue had collected a net of €628m for the Local Property Tax since 2013.
The report noted that the yield for 2013 alone of €259m was almost 4% higher than the Department of Finance had estimated.
It said that by the end of June 2014 payment compliance rate for 2013 was 97% and had resulted in a residential property register of 1.95 million properties.
€241m spent on water services investment programme
The Department of Environment Community and Local Government spent €241m last year on the water services investment programme. The total cost of the programme between 2007 and 2013 was €2.9 billion.
The report showed €6m has been included in the department's 2014 estimate for some water quality and water sector reform programme costs.
Meanwhile, today's report also show that the five members of the Fiscal Advisory Council received fees and expenses totalling €68,000 in 2013 – an average of €13,500 each.
Expenditure of the council totalled about €481,000 in 2013, almost half of which was accounted for by the salary costs of staff seconded from other organisations.
The largest element of the council's non-pay administration expenditure was a payment of about €104,000 to the ESRI in respect of accommodation costs and support services.
State losing €2.7m a week due to Jobseekers' errors
The Exchequer is losing €2.68m a week due to fraud and errors in around 3.1% of claims for Jobseekers' Allowance.
Of 987 cases surveyed, 85% were assessed as requiring no change in their payment.
Customer errors were identified in 119 cases, with departmental errors arising in nine cases. Fraud was suspected in 21 cases.
Fraudulent behaviour included failure to provide the documentation requested, means in excess of limits identified, the claimant being unavailable for work (including living abroad) or not being entitled to a dependent adult payment.
The survey estimated that the fraud and error rate for casual claimants who work for a day or two at a time at around 6.8%.
The State is also losing almost €390,000 a week in fraudulent or erroneous payments in the rent supplement welfare scheme.
Rent supplements totalling €373m was allocated to around 80,000 rent supplement recipients during 2013. However, an overall fraud and error rate of 5% was detected in a random survey of recipients.
Of 1,000 cases examined, 84% were in order. Customer errors were identified in 55 cases, with departmental errors found in 67 cases. There were 38 cases of suspected fraud.
Two factors were identified as having the most influence on the likelihood of a case being non-compliant with scheme conditions – the division of the department dealing with the case, and the person to whom the payment was made.
The divisions with the highest percentage of fraud and error cases were Dublin Central at 32%, Midlands North at 25%, while the average across all divisions was 16%.
Cases where rent supplement was paid directly to the client had an 18% fraud and error rate, while those paid to a nominated person (usually the landlord) had a 10% rate.
The report stated that while the value of departmental errors identified was low, errors in the calculation of rent supplement should be addressed as a priority.

RTÉ News – Business Headlines