1 of 2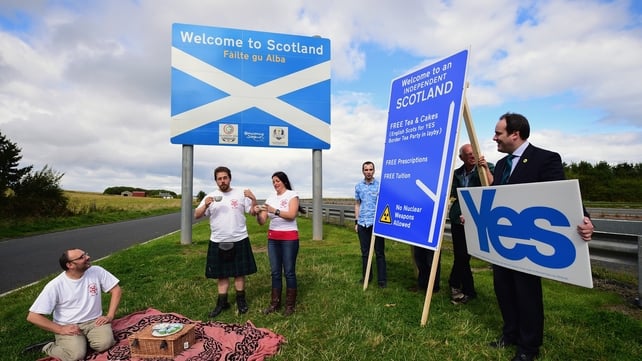 Independence supporters have been boosted by the weekend polls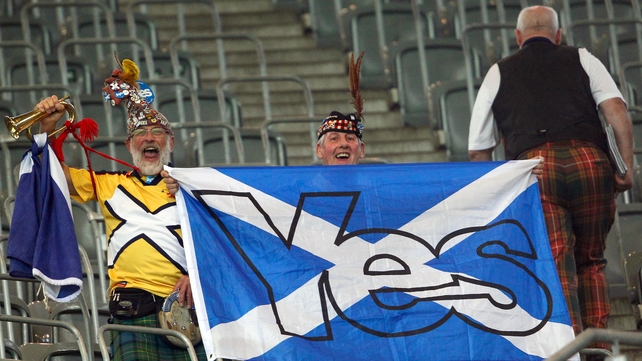 Scottish football fans show their support for independence at the Germany-Scotland Euro 2016 qualifier in Dortmund
Supporters of the union are mounting a frantic fightback after a shock poll in Scotland suggested the United Kingdom could be consigned to history in ten days' time.
The poll has also spooked the markets and seen the pound slump to a ten-month low this morning.
British Prime Minister David Cameron will this week attempt to convince sceptics that Scotland will get significantly more autonomy even if independence is rejected.
The Labour Party is also deploying some of its big names to try to halt the apparent nationalist surge.
Party leader Ed Miliband also stressed that extra powers will start being devolved "right after" a No vote.
Over the coming days, Mr Miliband is expected to share a platform with his predecessor as Labour leader, Gordon Brown, for the first time since the 2010 general election campaign.
Shadow chancellor Ed Balls, who will take to the stump in Aberdeen later, has used an article in the Daily Record to entreat Scots not to use their votes as a "protest" against "callous" Tory policies emanating from Westminster.
The push, which has been dismissed as "panic" by the pro-independence camp, came after the contest was set on fire by YouGov research for the Sunday Times.
It suggested Yes had taken the lead for the first time, with 51% support compared to 49% for No.
The two-point advantage, which excludes those who do not know or do not propose to cast a ballot, is within the margin of error and suggests the result is too close to call.
It marks a stunning turnaround for First Minister Alex Salmond's campaign, which was trailing by 22 points just a month ago.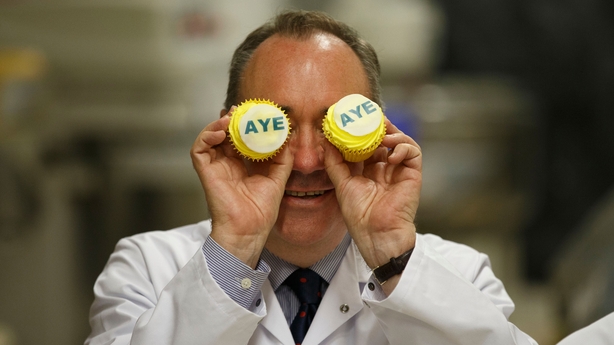 Another Panelbase survey put the pro-union side slightly ahead, with No at 52% and 48% favouring independence.
Responding to the news of the pound slumping, Scotland's Deputy First Minister Nicola Sturgeon told the BBC: "It's not unusual in political campaigns, or indeed on budget days, for the value of the pound to fluctuate.
"I think that would suggest that the financial markets see Scotland as a strong economy.
"But, of course, we've made very clear that we want to continue with a currency union.
"If the UK government was prepared to sit down with the Scottish government today, we would do that and it would be within our powers jointly to give reassurance there.
"It is the UK government that's creating the uncertainty by refusing to have those sensible discussions."
Writing in today's Daily Telegraph, Mayor of London Boris Johnson made an emotional appeal to keep the UK together, warning Scottish independence would be "an utter catastrophe for this country".
"We will all have lost a way of thinking about ourselves, a way of explaining ourselves to the world," he wrote.
"We are on the verge of trashing our global name and brand in an act of self-mutilation that will leave our international rivals stunned, gleeful and discreetly scornful."

RTÉ News – News Headlines