Sunday 23 February 2014 17.09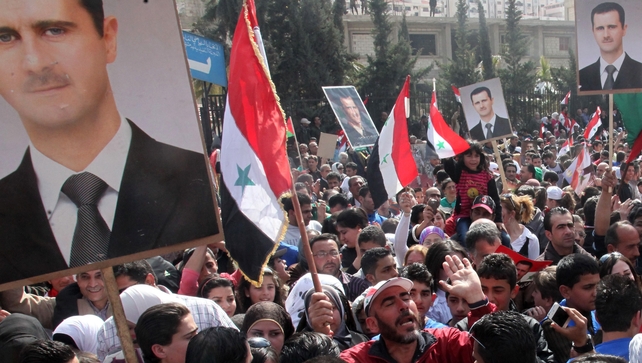 Syrians holding portraits of President Bashar al-Assad rally to show their support to the government yesterday in Damascus
At least 14 people were killed and 70 injured in a car bombing near a field hospital in a Syrian town on the border with Turkey.
The town serves as a main supply line for rebels fighting President Bashar al-Assad,activists said.
The attack shattered relative calm in a region of far northern Syria that has been a safe haven for thousands of refugees fleeing the three-year civil war.
The bomb exploded in the town of Atmeh, situated amid olive groves opposite the Turkish village of Bukulmez in the province of Hatay. The target was a hospital owned by Ghassan Abboud, apro-opposition businessman who owns Orient Television.
Orient Television, based in Dubai and broadcasting into Syria, has been vehement in its criticism of the Islamic State of Iraq and the Levant (ISIL)
It is an al-Qaeda splinter group that has seized several strategic areas along the border and choked supply lines to more moderate rebel groups in the interior.
Atmeh has been held by a loose coalition of Islamist rebels, including al-Nusra front and The Islamic Front, who drove out the ISIL fighters from the town two months ago.
TOP STORIES

RTÉ News – News Headlines