Updated: Wednesday, 05 Mar 2014 17:51 | Comments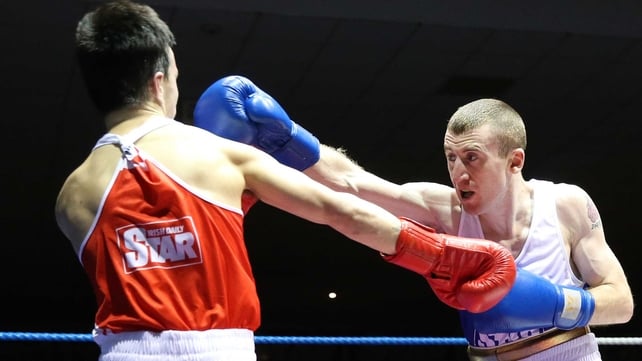 Paddy Barnes beat Blaine Dobbins to secure his final spot at the 2014 Irish National Elite Championships
Double Olympic medallist Paddy Barnes has vowed to regain his Irish light-flyweight title on Friday night.
The Belfast man faces reigning champion Hughie Myers, in a rematch of the 2012 final, which Barnes won narrowly.
Ryston boxing club's Myers won the 49kg crown in 2013 – Barnes did not compete last year because of flu.
"Hughie Myers only took my title because I was sick and didn't weigh in last year," Barnes told RTE Sport.
"But Hughie is a very good boxer. We fought before and it was very very close. In the last fight, in 2012, I underestimated him a bit and tried to blow him away.
"Hughie is very good at what he does, with his hooks, and I played into his hands going in all guns blazing and he countered the life out of me.
"It was a close fight, I still came out on top but now going into Friday's final I know what he does best and I'm going to take it away from him.
Six-time national champion Barnes, who drops back to light-flyweight after competing in last year's World Championships at flyweight, expects a tactical battle against Myers but believes that fear of losing is his secret weapon. 
"It'll be very tactical. I know what he does, and he can only think one way, but he's very good at it," he said.
"What motivates me the most is that I'm afraid to lose. So I have to train my hardest.
"If I lose, it'll be in the back of my head, everyone will be talking about me – 'Oh Paddy Barnes is on the slide' – I'm scared of that so I train my hardest and I'll be the best prepared I can be."
Nine National Elite Championships finals will be decided at the National Stadium on Friday night, with the women's finals taking place on Saturday.
Men's Finals:
49kg Hughie Myers (Ryston) v Paddy Barnes (Holy Family)
52kg Adam Courtney (St Marys) v Chris Phelan (Ryston/Defence Forces)
56kg Michael Conlan (St John Bosco) v Tyrone McCullagh (Holy Family)
60kg Sean McComb (Holy Trinity) v David Oliver Joyce (St Michael's Athy)
64kg Michael Nevin (Portlaoise) v Dean Walsh (St Josephs/St Ibars)
69kg Adam Nolan (Bray) v Stephen Donnelly (All Saints)
75kg Darren O'Neill (Paulstown) v Michael O'Reilly (Portlaoise)
81kg Joe Ward (Moate) v Matthew Tinker (St Francis)
91kg Gary Sweeney (Olympic) v Stephen Ward (Monkstown, Antrim)
91+kg Con Sheehan (Clonmel) v Dean Gardiner (Clonmel)
Women's Finals:
48KG Lynn Harvey (Crumlin) v Lynn McEnery (St Pauls)
51KG Ceire Smith W/O
54KG Dervla Duffy (Ryston) v Michaela Walsh (Holy Family GG)
57KG Joanna Lambe (Carrickmacross) v Lyndsey Doyle (Gorey)
60kg Katie Taylor (Bray) W/O
64kg Kelly Harrington (Corinthians) v Maeve McElligot (Rathkeale)
69kg Claire Grace (Callan) v Laoise Traynor (Bray)
75kg Claire Sweetman (Palmerstown) v Sinead Kavanagh (Drimnagh)
81kg Aishling Byrne (Paulstown) W/O
81+kg Diana Campbell (Garda) v Fionna Nelson (City of Belfast)
User contributions and/or comments do not, unless specifically stated, represent the views of RTÉ.ie or RT&Eacute.
Click here for Terms of use

RTÉ Sport sport headlines