An advisory group for the banking inquiry has recommended that some public hearings could begin in December of this year.
These hearings would involve authors of earlier reports and those who had divergent views in the lead up to the banking crisis.
The group, which is made up of economists, civil servants and the Comptroller and Auditor General, also advised that the majority of witnesses should give evidence over a five-month period starting in April next year and running to September.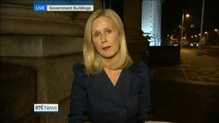 The inquiry will be chaired by Labour TD Ciarán Lynch.
In its final report to the banking inquiry, the group said the inquiry's timescale is extremely challenging.
It stated that the number of witnesses who can potentially be heard will be modest in light of the inquiry's objectives.
The group said each witness or witness group would require four hours at a minimum and this equates to 84 witnesses or witness groups for the whole inquiry.
However, it stated that there could be 120 potential witnesses within the banking element alone.
It recommended that the committee should tailor its approach to hear evidence from witnesses.
The group said some key witnesses should be heard individually, some could be grouped together and some may require only written statements.
It makes no recommendations in relation to the sequence of witnesses, but it said the inquiry should be flexible.
The group recommends 19 different categories of witnesses including banking officials, auditors, regulators, developers who received large loans, members of the Cabinet, Attorneys General, Government advisors, senior civil servants in the departments of An Taoiseach and Finance, the President and relevant officials in the ECB, and officials from European Commission, IMF and those with divergent views in these organisations.
The advisory group also recommended that the period that the inquiry is investigating should be broad, beginning in 1992 to coincide with changes to the capital requirements for banks.
It also proposed that the timescale should run to the end of 2013 to allow it to assess if the recommendations of previous reports have been implemented and also to look at reforms.
However, the group said the period is not prescriptive and it is not recommending that the committee should inquire in detail into everything that happened over the 20-year period.
It said the inquiry should identify core issues, such as what happened in the banks at individual level and also collectively and also the lead up to the bank guarantee on 30 September 2008, the decision itself and its consequences.
Mr Lynch is joined on the committee by Sinn Féin's Pearse Doherty, Socialist Party leader Joe Higgins, Fianna Fáil's Michael McGrath and Fine Gael's Eoghan Murphy, Kieran O'Donnell, John Paul Phelan.
Senators Sean D Barrett, Michael D'Arcy, Marc MacSharry and Susan O'Keeffe complete the 11-person committee.

RTÉ News – News Headlines